Australian Red Poll Cattle Breeders Inc.
Victorian Region
Home | Red Poll Cattle | Member List | Events | Breed Standard
Cattle for Sale | Show Results | Carcase Results | Contacts | Links
News | Youth Program | Merchandise
Red Poll Breeders Triumph at Whittlesea Hoof and Hook Competition
The Hoof and Hook Competition held at Whittlesea Showgrounds was held on November 6, 2022 and subsequently at Hardwicks Abattoir in Kyneton, Victoria with 38 entries and James Taylor as the Judge.
After not being mentioned in the Hoof Section, the following results were revealed in the Carcase evaluation Section.
| | |
| --- | --- |
| Class 1. | 1st R Draper & G Ward - Red Cactus & Redward Red Poll Studs - 82 Points (Pure Bred Red Poll) |
| | 2nd BE & LE Johnson - Lynbarry Red Poll Stud - 79 Points (Pure Bred Red Poll - SIre - Lynbarry Spike) |
| Class 2. | 1st A & J Munro - Summer Brae Red Poll Stud - 83.8 Points (Sire - Lynbarry Tommy) |
Champion Carcase - A & J Munro - Summer Brae Red Poll Stud
Reserve Champion Carcase - R Draper & G Ward - Red Cactus & Redward Red Poll Studs
BEWARE THE RED POLLS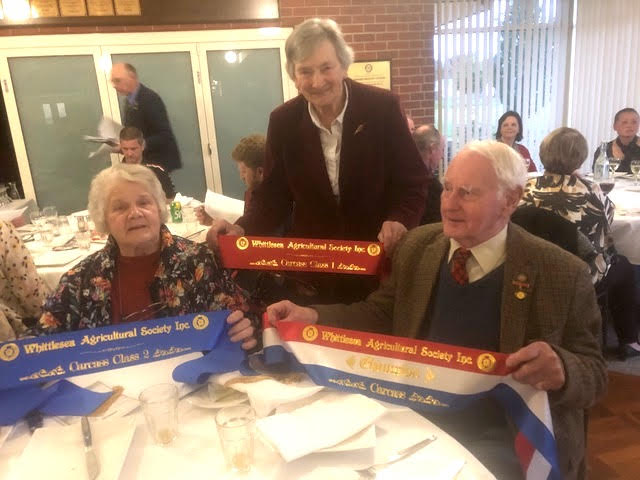 Judy Munro, Lynette Johnson and Alan Munro at the Celebration Dinner Whittlesea Ag Society 18-11-22
RED POLLS TRIUMPH AT WHITTLESEA AG SOCIETY HOOF & HOOK COMPETITION 2020
Despite the cancellation of Annual Whittlesea Agricultural Society Show this year, the Cattle Superintendent, Ross Draper, was still able to hold the Annual Hoof and Hook Competition on November 1 with additional precautions according to Covid 19 rules.
Sponsorship was provided by Irwin Stockfeeds and Nutrien Livestock. Judging on the Hoof was done by Rocky Capsciolto of Wollert and the entrants were divided into two classes. Class 1 had 25 entrants with live weights 330-420 Kg and Class 2, with 34 entrants with live weights of 421-540 Kg.
This competition allowed cattle to be judged on appearance, structural soundness, fat cover and temperament before being sent to Hardwicks Abattoir in Kyneton, where the carcases were assessed on a range of numerically determined characteristics for their meat quality.
This year, the Champion On the Hoof Competition was won by an Angus, entered by Alex Lineham, of Vervale, Victoria.
After the Carcase Assessment, the Champion Carcase was awarded to a Pure Red Poll entered by Gay Ward of Arthurs Creek. Gay, when interviewed, was excited with the wins and gave tribute to her bull, Redward Forest, who sired her winning and other well-performed steers.
Hoof Results
Class 1
1st - Gay Ward (Red Poll)
2nd - Malcolm Hackett (Speckle Park X Simmental)
3rd - Peter Robinson (Limousin)
4th - BE & LE Johnson (Red Poll)
Class 2
Champion – Alex Lineham (Angus)
Reserve Champion - Malcolm Hackett (Speckle Park X Simmental)
3rd – Alex Lineham (Angus)
4th – Meadowvale Australian Shorthorns – Australian Shorthorn.
Carcase Results
Allan & Bruce Lloyd Memorial Shield for Most Outstanding Carcase awarded to Gay Ward
Class 1
Champion - G. Ward 73.46 points (Red Poll).
2nd DN & DL Pollock 72.49 points (AngusX Shorthorn).
3rd S. Bruton 69.89 Points (Shorthorn). G. Bichard 68.27 Points (AngusX Charolais)
Class 2.
Reserve Champion – B. Jurgens 73.44 Points (Angus X Murray Grey).
2nd T & L Elliott 70.58 (Angus X South Devon)
3rd DW & DM Cocking 70.33 Points (Limousin).
4th G. Ward 69.65 Points (Red Poll).
Gay Ward's steer that provided the Champion Carcase sired by Redward Forest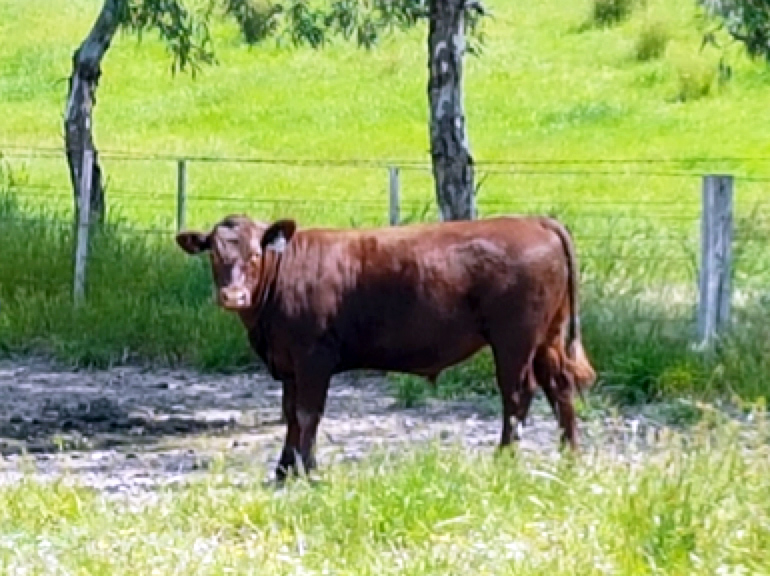 Winner Class 1 Hoof Competition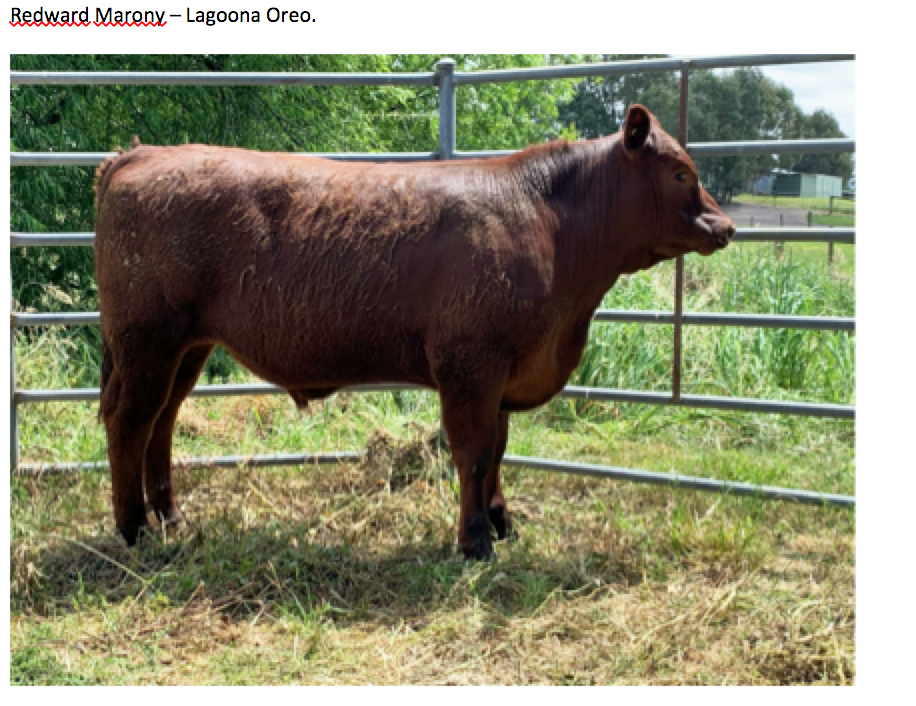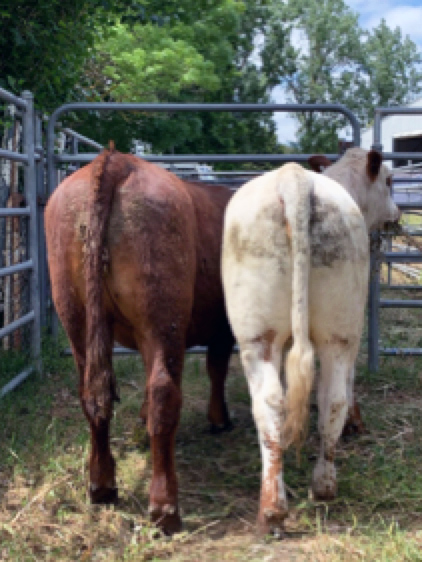 As above with 2nd placegetter
COVID-19 2020 Virtual Online Show
Many ag shows were cancelled due to the coronavirus restrictions.
Thanks to Rural Weekly a virtual competition was devised and hundreds of show cattle were judged Australia Wide on Easter Sunday in the COVID-19-VIRTUAL-ONLINE-SHOW.
Marg Will was the judge for the "Any other breed" class.
The Storm Family won Reserve Champion Any Other Breed Female. Trent Storm is President of the Victorian Region of ARPCBInc.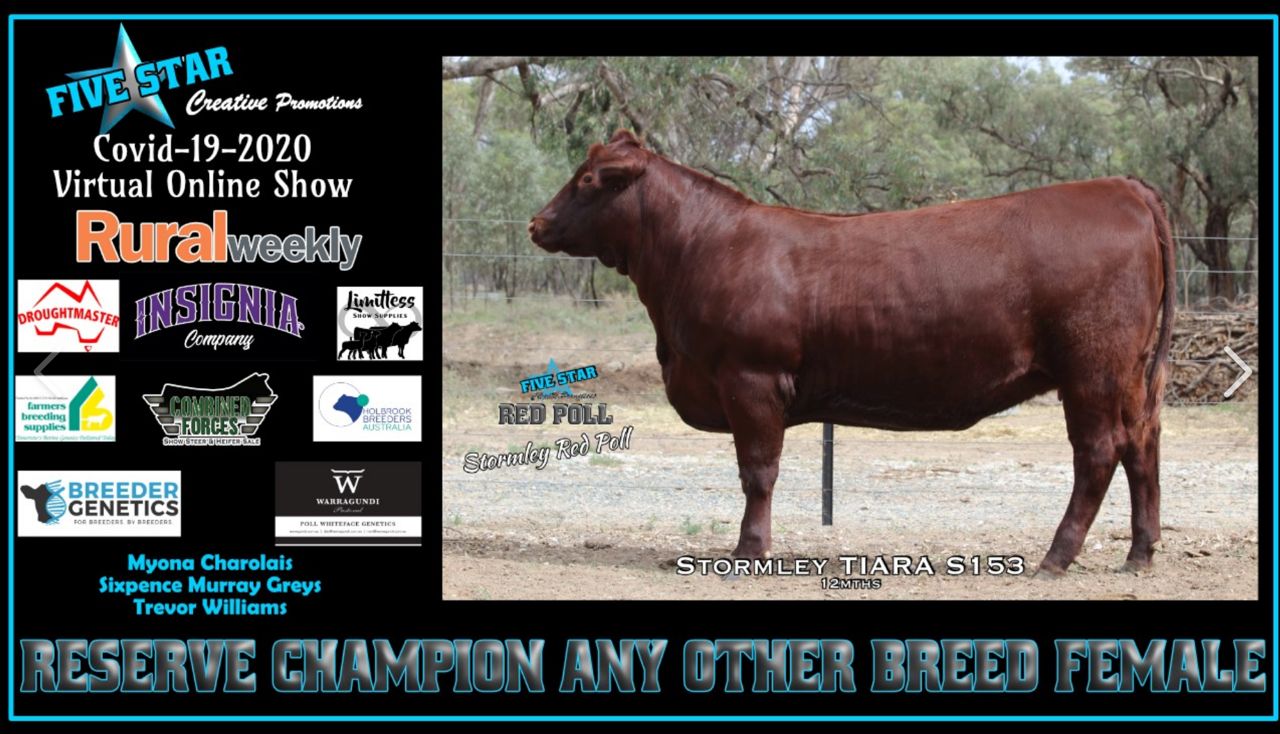 Nicholas and Prue Lee of Quirindi NSW won Champion Any Other Breed Bull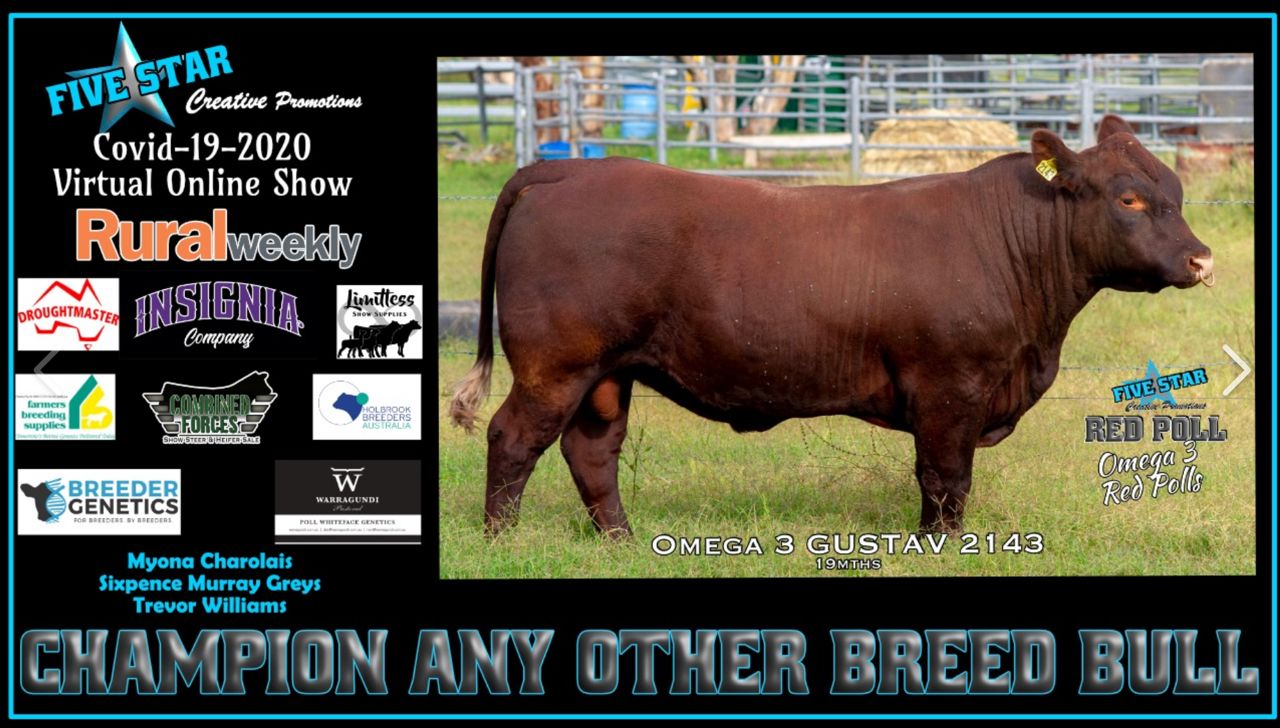 Congratulations Carlie Mackelmann on your highly commended.
VICTORIAN RED POLL ON FARM CHALLENGE 2020.
The on farm challenge aims to promote and improve the Red Poll Breed to meet future market needs; to provide assistance to breeders by communication with experts who can provide constructive comments about individual animals and/or herds; to stimulate fellowship between members from different areas of Victoria and to showcase Red Polls in Victoria.
The 2020 On Farm Challenge was held and quite successful. It commenced on March 2 and concluded later in the month. There were some withdrawals from the event due to covid restrictions and the planned get-together at Ian and Nell Staff's property was also cancelled. Certificates and Trophies were mailed out to the participants. David Spencer drove from his home in Rutherglen to all sites and we thank him for his support and great job of judging the animals on display.
Herds entered were Turanga (Greg Abbott), Koallah Park (Don Castle), Tiraslea (Anne & Frank Moya), Glenwyn (Carlie Mackelmann), Eurimbla (Ian & Jill Coghlan), Stormley (S Storm & Sons) and Sophronites (Nell & Ian Staff). Tiraslea and Sophronites were subsequently withdrawn.
Results are as follows with 65 entries from 5 herds competing
Judge - David Spencer (Rutherglen)
FEMALES
Class 1, 9-16 months
1st - Stormley Tiara
2nd - Turanga 660
3rd - Koallah Park Linda Rose
Class 2, over 16 - 24 months
1st - Stormley Stella
2nd - Turanga Tiana
3rd - Glenwyn Phoebe
JUNIOR CHAMPION FEMALE
STORMLEY STELLA
RESERVE JUNIOR CHAMPION FEMALE
TURANGA TIANA
Class 3, over 24 - 36 months
1st - Eurimbla 2889
2nd - Glenwyn Narnia
3rd - Eurimbla 2903
Class 4, over 3 - 5 years
1st - Turanga Kelli
2nd - Stormley Queen Bee
3rd - Eurimbla Leora
Class 5, over 5 years
1st - Stormley Lara
2nd - Eurimbla Next Door
3rd - Eurimbla Shiney
SENIOR CHAMPION FEMALE
STORLMEY LARA
RESERVE SENIOR CHAMPION FEMALE
EURIMBLA 2889
GRAND CHAMPION FEMALE
STORMLEY LARA
BULLS
Class 6, 9 - 16 months
1st - Glenwyn Zeus
2nd - Turanga No Worries (604)
3rd - Turanga 628
Class 7, over 16 - 24 months
1st - Turanga Curly Wurly
2nd - Turanga Trust
JUNIOR CHAMPION BULL
GLENWYN ZEUS
RESERVE JUNIOR CHAMPION BULL
TURANGA NO WORRIES (604)
Class 8, over 2 - 5 years
1st - Eurimbla Fonz
2nd - Eurimbla Titan
(Owner Glenwyn)/td>
3rd - Koallah Park Truman
Class 9, over 5 years
1st - Eurimbla Boomer
Class 10, two offspring of 1one sire up to 18 months
1st - Glenwyn by Eurimbla Titan
2nd - Turanga by Almora Amos
(Trust & Curly Wurly)
3rd - Turanga by Almora Amos
(660 & 596)
SENIOR CHAMPION BULL
EURIMBLA BOOMER
RESERVE SENIOR CHAMPION BULL
EURIMBLA FONZ
GRAND CHAMPION BULL
EURIMBLA BOOMER
Judge's comments on the 2020 Victorian Red Poll On Farm Challenge
Thank you dearly for allowing me the privilege of adjudicating over the 2020 Victorian Red Poll "On Farm Challenge". It was indeed a pleasure. How else in these indifferent times can one get to see good country, good Cattle and meet so many great people, who without exception are passionate and dedicated toward the Beef Cattle Industry.
Ian, it was regrettable that circumstances prevented me from including your herd. You, as I'm sure always were very responsible in considering the well being of others.
Thank you all for your hospitality and cups of tea. A special thanks to Don and Bev, where I had the pleasure of an overnight stay, where I experienced Bev's amazing home cooking, not to mention her homemade green tomato pickles.
The judging task was as difficult as I have had, way more difficult than judging Cattle at a show, where they are all together in front of you, in their classes and you can compare one from the other. You needed to have a very healthy memory or take copious notes aided by the score sheet that I used. Obviously I opted for the later. (in part you will receive your score sheets in due course). I set a benchmark early and hopefully was able to maintain it over the duration of the week.
The week was a real education for me. I now know about Red Polls what the majority of the Beef Cattle Industry do not know. This in itself is a great pity as your Breed has a lot to offer the industry and I challenge all of you to get "the message" out there as a matter of urgency.
I found the longevity in your female herd amazing, constantly seeing 6,8 and 10year old females with sound udders and feet and strong calves alongside benefitting from vast quantities of milk. I believe I was introduced to one cow, she was 18 years of age, calf along side and back in calf. These traits you must guard closely as I am a believer that the strength in any breed starts with that breeds females.
Temperament is another quality trait that was evident, not only amongst those who had spent time in the show ring, but in general, so important these days.
Bulls, generally sound, good testicular development with tight sheaths. I must comment on my Grand Champion Bull, he would stand alongside any bull of any breed that I have seen, the breeder is to be congratulated. I trust many of you have seen him and formed a similar opinion to mine?
Similarly, my Grand Champion Female, yes she has some age, not a disadvantage as per my previous account, she exudes femininity, deep, balanced and a great udder for her age, a worthy winner.
I don't intend to comment individually on any other entrants, other than to say that many of the classes were very close, some with margins of one point only.
You will all see the score sheet that I devised. I believe it covered 13 important traits. I made some separate notes that you will not see, however I am happy to receive a call from any of you, feel free.
Continue to use bulls with sound back legs and neck extension and do more about letting industry stakeholders understand the fine qualities of your breed.
Thank you once again for the privilege, keep well and enjoy the prevailing cattle prices amongst the adversity surrounding us all at present.
Kind Regards
David W Spencer
PHOTOS OF WINNERS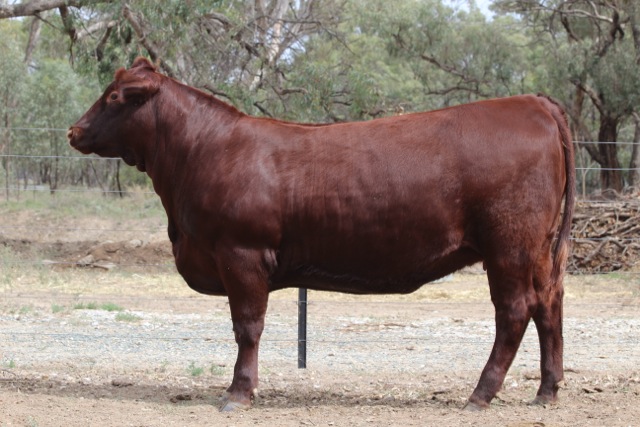 WINNER CLASS 1. STORMLEY TIARA
Sire: Stormley Remington, Dam: Stormley Princess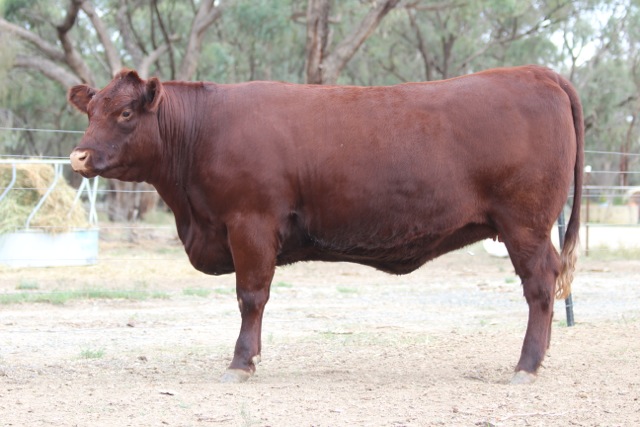 JUNIOR CHAMPION HEIFER - STORMLEY STELLA
Sire: Mundi Mundi Kingmaker, Dam: Sophronites Mitzi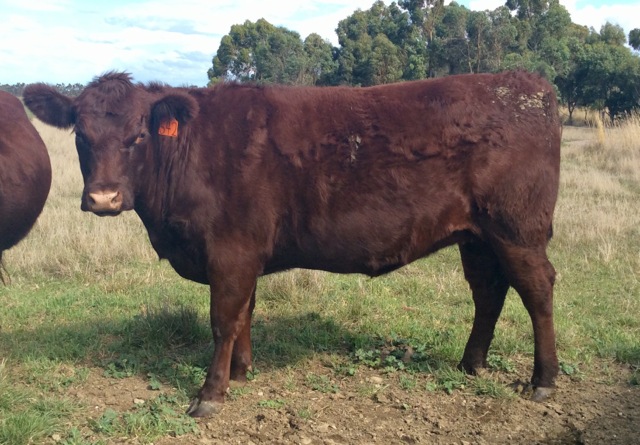 RESERVE JUNIOR CHAMPION FEMALE - TURANGA TIANA
Sire: Turanga Lawrence, Dam: Virangra Tiana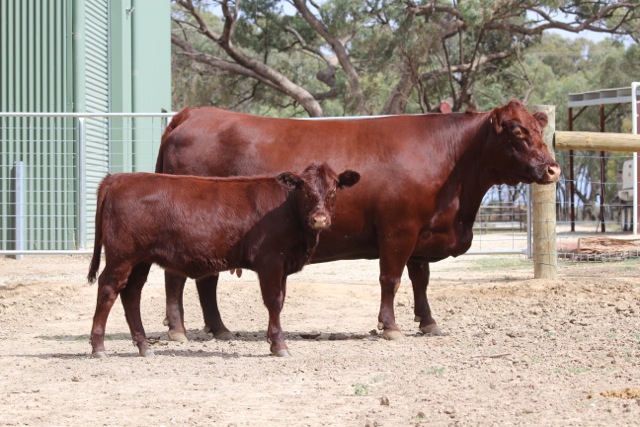 SENIOR & GRAND CHAMPION FEMALE - STORMLEY LARA & STORMLEY TARA
Sire: Stormley Strad Dale, Dam: Lynbarry Hazel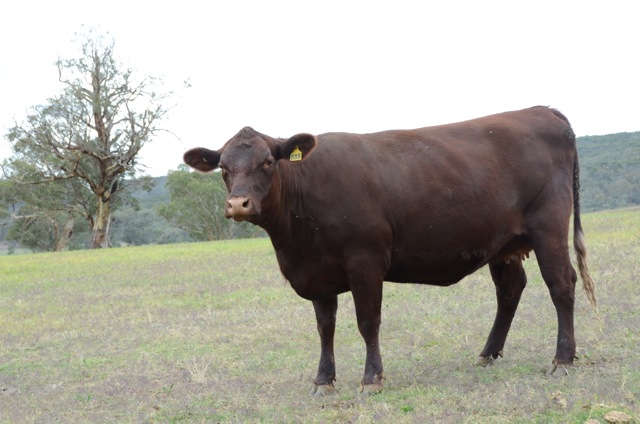 RESERVE SENIOR CHAMPION FEMALE - EURIMBLA NAVITA (2889)
Sire: Eurimbla Navajo, Dam: Eurimbla Lavendar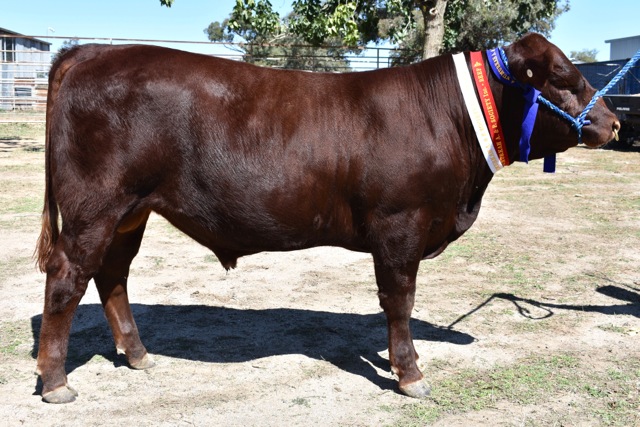 JUNIOR CHAMPION BULL - GLENWYN ZEUS, ALSO A PRIZE WINNER
AT THE NUMURKAH BEEF FESTIVAL A WEEK AFTER THE OFC JUDGING
Sire: Eurimbla Titan, Dam: Sophronites Georgina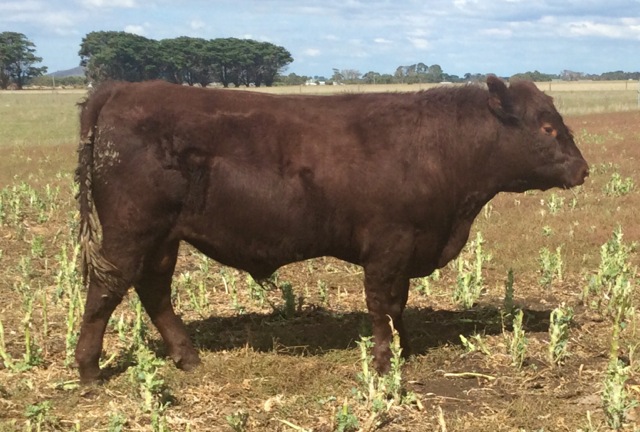 RESERVE JUNIOR CHAMPION BULL – TURANGA NO WORRIES (604)
Sire: Turanga Betta Boy, Dam: Turanga No Fuss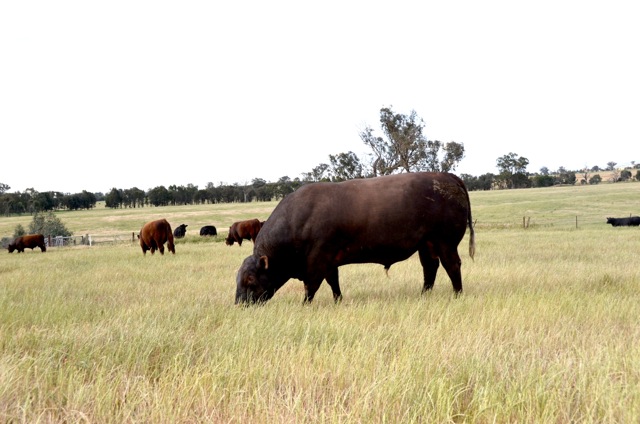 SENIOR & GRAND CHAMPION BULL - EURIMBLA BOOMER
Sire: Eurimbla Atlas, Dam: Eurimbla Party Girl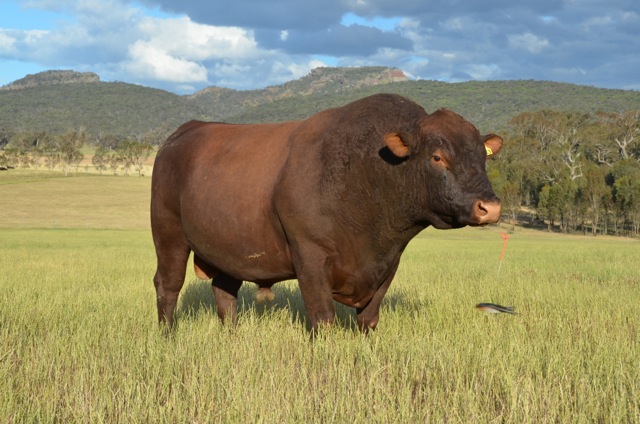 RESERVE SENIOR CHAMPION BULL - EURIMBLA FONZ
Sire: Eurimbla Casanova, Dam: Eurimbla Seaside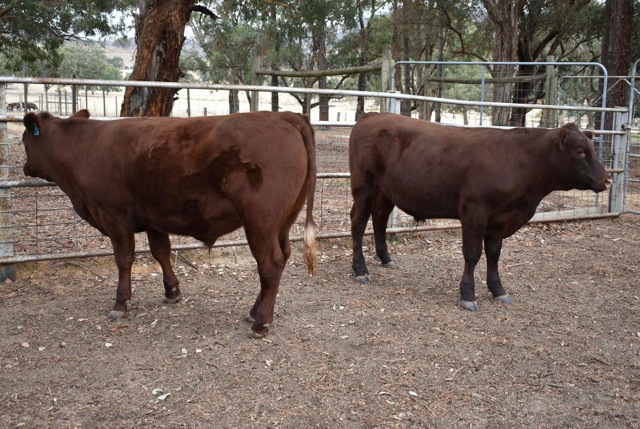 WINNER CLASS 10 - SIRE -EURIMBLA TITAN - STEERS 11 MONTHS OLD.
BREEDER - C. MACKELMANN
Dectomax 60th Annual Dubbo Shorthorn National Sale - 12th June, 2019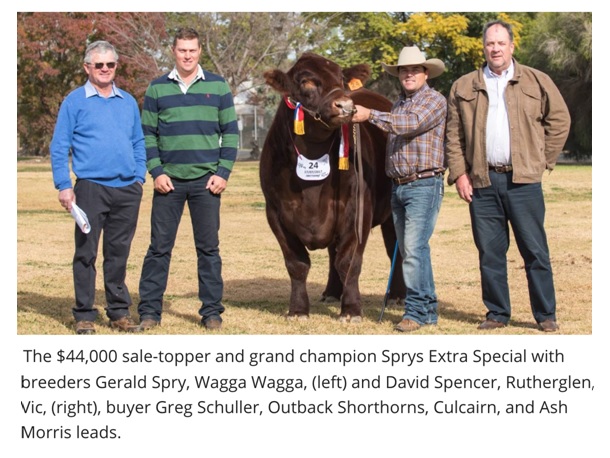 RED POLLS SPECTACLULAR AT WHITTLESEA SHOW
As usual, Red Poll Stud Cattle were on display for prominent breeders Gay Ward (Redward Stud), Ross Draper (Red Cactus Stud) and Barry and Lynette Johnson (Lynbarry Stud).
While Gay Ward took out both Junior Champion Heifer and Junior Champion Bull awards with Redward Cherokee and Redward Rumble, former President of the Whittlesea Agricultural Show, Ross Draper's Senior Cow Red Cactus Teah won Grand Champion Female. With a single entry for the day, Barry and Lynette Johnson took out the Grand Champion Bull award with Lynbarry Spike.
Thanks go to Gay Ward who provided the much-needed tent where the breakfasts and lunches for all the cattle exhibitors and supporters were provided.
Red Polls also figured in the Carcase On the Hoof judging by Kate Norris with Ross Draper's pen of three store steers placed second and Nell & Ian Staff's pen of three replacement heifers placed fourth.
Judge Cindy Smith provided the following results:
Junior Champion Heifer:
Redward Cherokee
Reserve Junior Champion Heifer:
Redward Epernay
Senior Champion Cow:
Red Cactus Teah
Reserve Senior Champion Cow:
Red Cactus Berry
GRAND CHAMPION FEMALE:
Red Cactus Teah
Junior Champion Bull:
Redward Rumble
Reserve Junior Champion Bull:
Red Cactus Mac
Senior Champion Bull:
Lynbarry Spik
Reserve Senior Champion Bull:
Redward Dorado
GRAND CHAMPION BULL:
Lynbarry Spike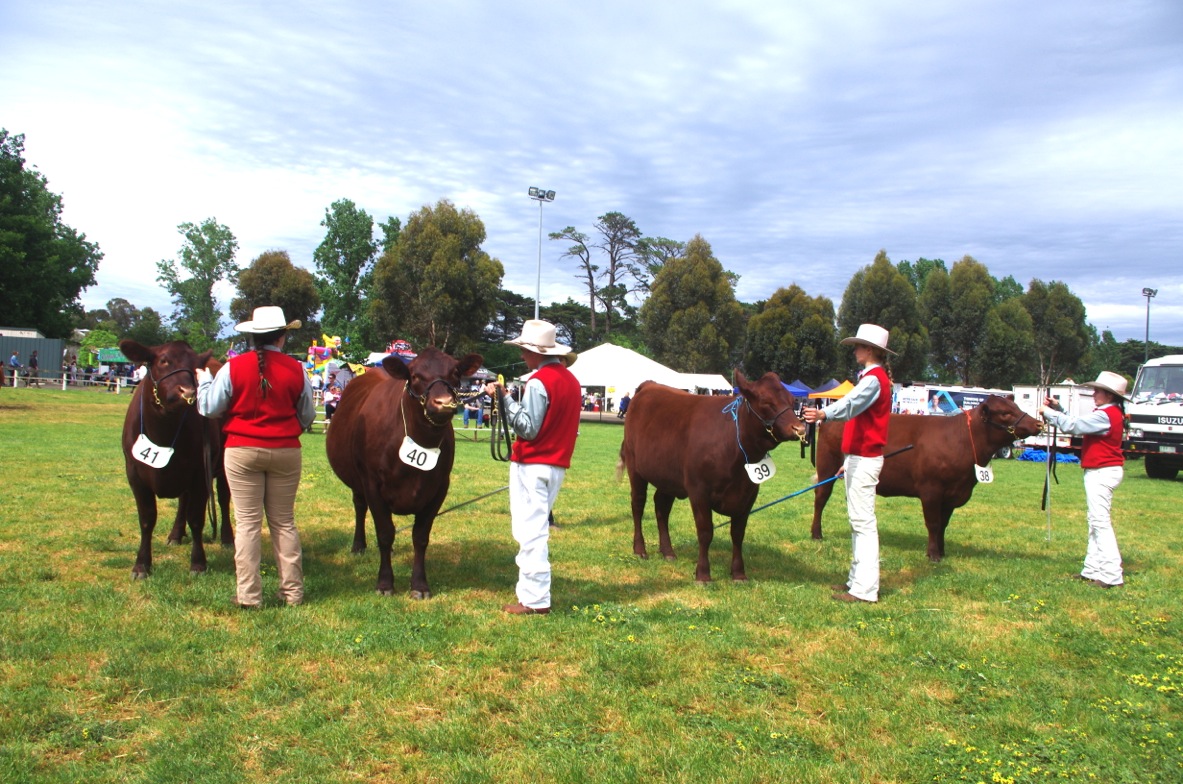 A line of outstanding Red Poll Heifers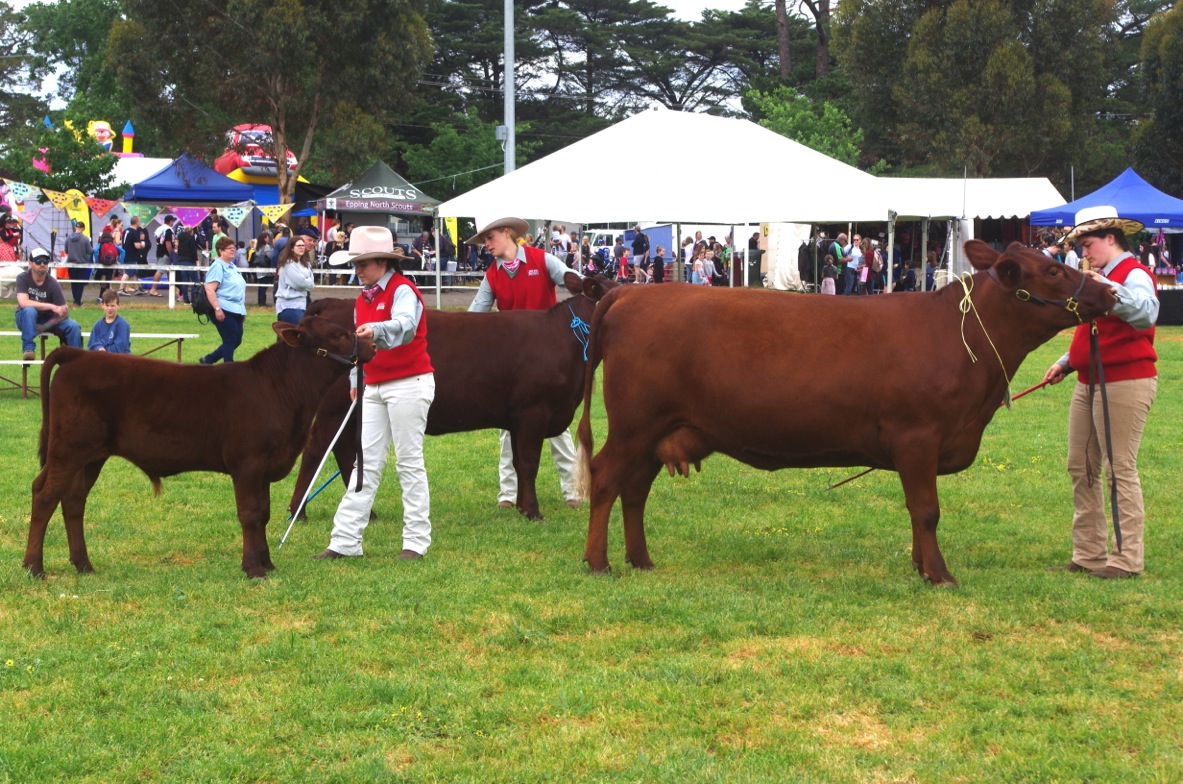 Grand Champion Red Poll Cow - Red Cactus Teah with Bull Calf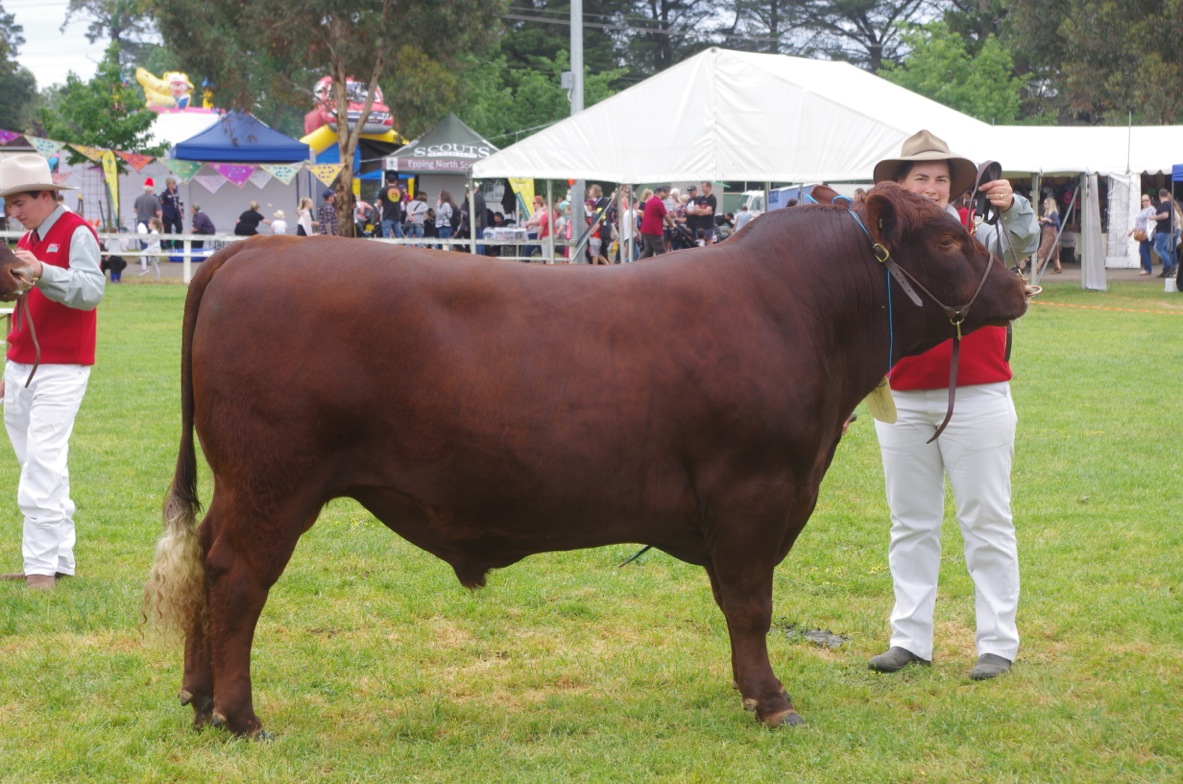 Grand Champion Red Poll Bull - Lynbarry Spike with Handler Johnson Family Member Doris.
DOUGLAS D'OLIVER
11-06-1948 – 03-05-2019
Doug D'Oliver supported the Red Poll "On Farm Challenge" Competition from 2010 until his last one in 2019. This is a competition in which a Judge is driven to the properties where cattle have been entered in the Competition for assessment. This allows Red Poll Breeders to have their cattle assessed without the high cost of entering their cattle in Shows by teaching them to lead, and preparing them for washing, clipping, transporting and housing at the show for several days. In past years, Doug assisted the process by driving the Judge to herds in the east of Victoria and then returning him to my property in Pheasant Creek where another member, Don Castle, took the Judge to herds in central, northern and western districts. Doug entered his cattle in every "On Farm Challenge" from 2009 until his last one in 2019, but he was not well enough to assist with his former driving activities. He believed that the On Farm Challenge Competition was an ideal way for breeders to improve their herds by having their cattle assessed in this way.
Doug also regularly supported promoting Red Poll Cattle at Farm World (Lardner Park at Warragul) annually where the Society had a site with cattle and promotional goods. He also supported Red Poll Sales and regularly purchased stock to add to his well-cared for cattle. In past years, his herd included Angus Cattle as well as his beloved Red Polls, but with failing health, he reduced the herd to just Red Polls. His cattle performed well in the On Farm Challenges. He was preparing to start breeding his cattle with artificial insemination techniques and had purchased suitable semen from top quality bulls. His expertise in the insurance industry was a great asset to discussions at meetings of the Society and his contributions to those meetings were always valued. As a result of attending an International Red Poll Conference in New Zealand, Doug joined the New Zealand Red Poll Cattle Breeders Association, made several visits to NZ on various occasions and enjoyed the company of their members.
Doug was a highly valued Member of the Australian Red Poll Cattle Breeders Inc. and he will be sorely missed.
SUCCESS AT WHITTLESEA SHOW 2018
Ross Draper had a big win at Whittlesea Show 2018.
His 19 month old Heifer, Red Cactus Josephine was awarded Senior and Grand Champion Red Poll Female by Judge Stephen Valentine of Commercial Red Angus Breeder from Pyalong. Subsequently, in the Interbreed Competition, she was awarded Supreme Champion Beef Female. His 7 month old Bull calf, Red Cactus Joeboy was awarded Junior and Grand Champion Red Poll Bull, as well as Supreme Champion Red Poll.
Subsequently, in the Interbreed Competition, he was awarded Supreme Champion Beef Bull and Supreme EXHIBIT winning the Kubota RTV.
It was also revealed that the two Red Cactus animals were full brother and sister sired by Red Cactus Joe who was the Champion Red Poll at Royal Melbourne's Red Poll Feature Show 2018.
Red Cactus Josephine with Owner/Exhibitor Ross Draper, Whittlesea Show Society President Mrs Lyn Lee and Handler Cassy Willsmore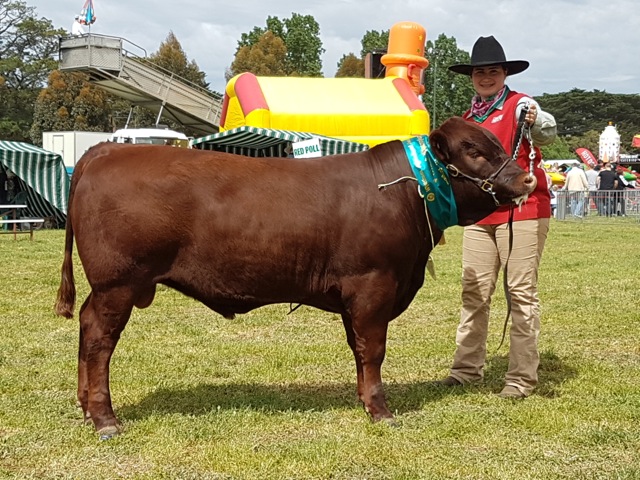 Red Cactus Joeboy - Supreme Exhibit with Handler, Megan Tung.
VICTORIAN RED POLL ON FARM CHALLENGE 2018.
For Commercial, Junior, and Full Members
AIMS
To promote and improve the Red Poll Breed to meet future market needs.
To provide assistance to breeders by communication with experts who can provide constructive comments about individual animals and/or herds.
To stimulate fellowship between members from different areas of Victoria
To showcase Red Polls in Victoria.
Members are invited to participate in the 2018 On Farm Challenge to be held on 26th February-3rd March, 2018.
Classes
Female – 9-16 months
Female – over 16-24 months
Female – over 24 – 36 months
Female – over 3 – 5 years
Female – over 5 years
Bull – 9 – 16 months
Bull - over 16 – 24 months
Bull – over 24 months – 5 years
Bull - over 5 years
Two offspring of one sire up to 18 months.
Maximum number of cattle entries per herd is 20.
Cattle are to be presented in paddock condition and yarded for inspection by the Judge. Entry fee is $10 per head except for class 10 ($10) payable to the ARPCB Inc, 65 Burtons Road, Pheasant Creek 3757 with your entry.
Entries close Friday, 16th February 2018
A Presentation Luncheon is planned at the home of Ian and Nell Staff, Saturday 3rd March, 2018 commencing at 11 am. All members and friends and members of the public are welcome to attend the judging at each property and the dinner.
The Judge, Mr Alan Wilson of Oakwood Red Poll Stud, Brentwood, S.A. who is an experienced Judge of cattle, both locally and internationally, and a long term Exhibitor of outstanding Red Polls, will summarise the Program and present the awards.
Your Committee Members are: D. Castle: Mob: 0417 169 914; D. D'Oliver: (03) 56649387; I. Staff : (03) 5786 5251 Mob : 0411 314 501
Download Entry Form
Pakenham Agricultural Show Hoof and Hook Competition 2nd - 5th December 2017.
There were 44 entries of steers and heifers and Red Poll Entries excelled.
On Saturday night, On the Hoof Judge, Cameron Cuttler placed a steer submitted by Gay Ward 3rd in Class 2 (with 17 entries - 330-385 Kgs Liveweight) and two Limousin Heifers were awarded Champion and Reserve Champion on the Hoof.
However, when the Carcases were evaluated on Tuesday, 5th December at Radford's Abattoirs in Warragul, a very different picture emerged.
In Class 2, Red Polls were placed 1st (Gay Ward) (84.16 points), 3rd (N & I Staff), 5th (Gay Ward) and 6th (N & I Staff)
Then, in Class 1 (250 - 325 Kg Liveweight), a steer entered by Ross Draper was placed 2nd, and was awarded Reserve Champion overall in the Competition with 86.19 points. A Red Angus Steer was awarded Grand Champion Carcase with 89.51 Points.
Radfords Abattoirs allowed exhibitors to inspect the carcases in their chiller rooms with the necessary safety clothing and this was greatly appreciated by all.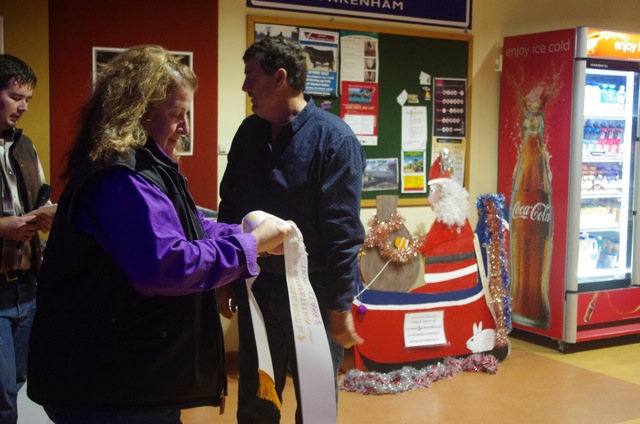 Gay Ward receives her 3rd Place Ribbon for the On the Hoof Competition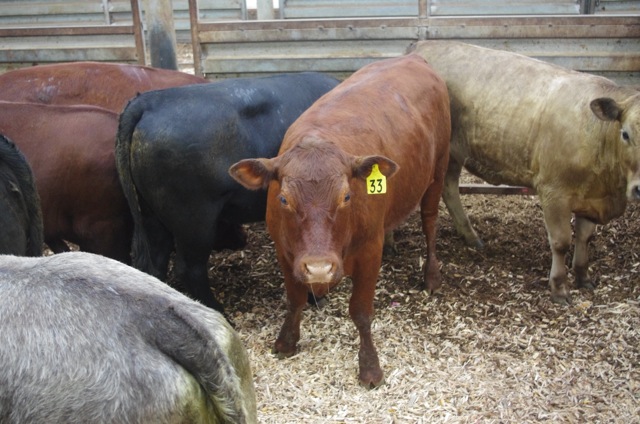 #33 was Third on the Hoof Class 2.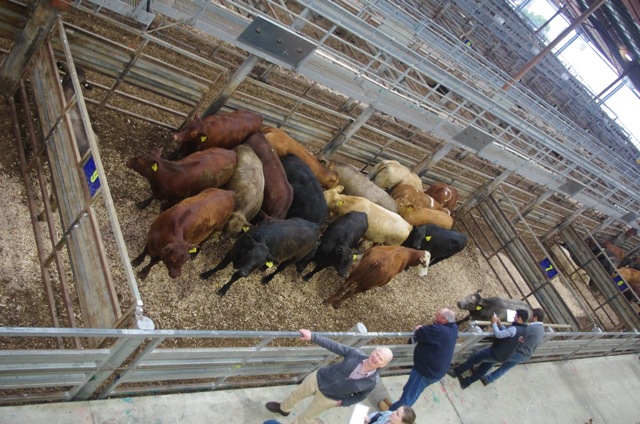 Class 2 - 17 Entrants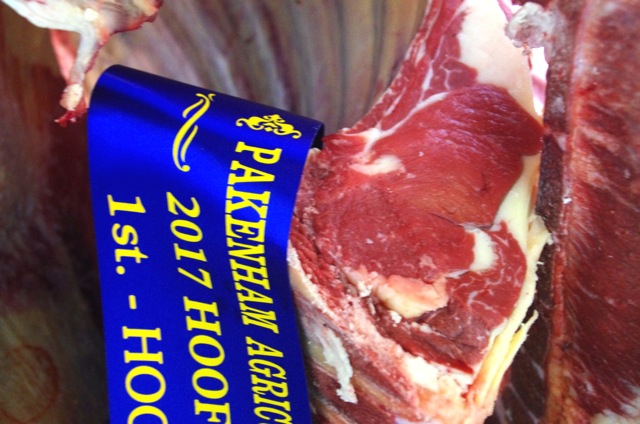 G Ward's Steer #32 - 1st Prize Class 2.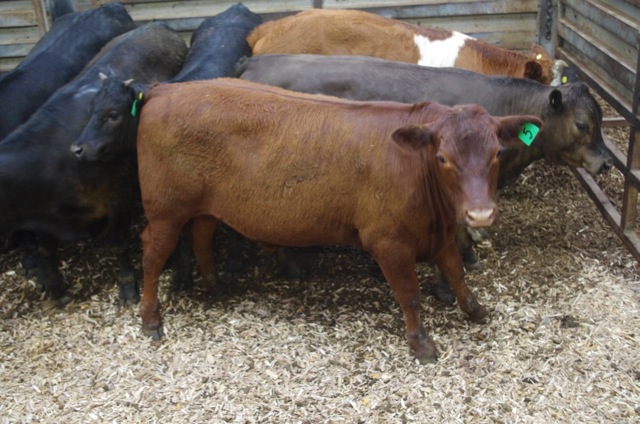 Class 1 - Steer #5 was awarded Reserve Champion Carcase overall in the competition.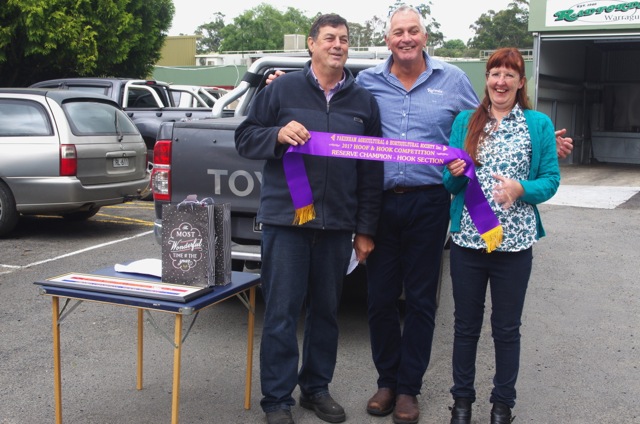 Andy Fyfe, Malcolm Ready and Anne Moya who received the Reserve Champion Trophies on behalf of Ross Draper.
Junior Redpoll member success
Junior member Carlie Mackelmann has attended Numurkah and Euroa Shows this year.
At Numurkah, she qualified for the 2018 Royal Melbourne Show junior parader state finals.
At Euroa, her two heifers, Glenwyn Millie and Glenwyn Marnie won Championships.
| | |
| --- | --- |
| | |
| Carlie has qualified for 2018 Royal Melbourne Show Junior Parader State Finals. | Euroa Show October, 2017 |
Congratulations Carlie.
We encourage all juniors with an interest in cattle to become members of your breed society and become involved in your local show. The cattle handler's (parader) competitions, and the junior judging competitions are great fun and can teach you a lot. Experiences gained here will give you a head start in life whatever you choose to do later. Not only that, you will meet lots of friends who have a similar interest.
Elmore Field Days - 3-5 October, 2017
Preparations for the Field Days commenced on Monday, 2nd October with Anne and Frank Moya arriving at Pheasant Creek. There they hooked up the Staff's trailer loaded with equipment, cattle food etc. The Staffs loaded up Ross Draper's Cattle Trailer with a cow and calf and a steer and the team set off for Alan John's property in Elmore where they loaded up his portable yards on the trailer.
The short trip to the Field Days saw the team set up the yards, unload the cattle and erect a tent.
Tuesday to Thursday provided excellent weather with mainly blue skies and warm temperatures.
The crowds were good with many visitors to the Red Poll Site. We had a lot of interest in the guess the weight of the cow competition which was won by two girls who outguessed all the knowledgeable farmers.
The cattle were very quiet and approachable, being patted by all and sundry, even though the steer and heifer had only been tied up twice before coming to Elmore. There were many enquiries and we expect some new breeders in the near future. We were visited by Red Poll Breeders Douglas Payne, Carlie and Jarred Mackelmann, Geoff Crowe, Ron Reid and other cattle breeders.
Packing up late on Thursday was quicker than the setup, and it was interesting jumping the cattle out of the trailer at Pheasant Creek in the dark. Thanks go to Anne and Frank for their great contribution to this event.
Ian and Nell Staff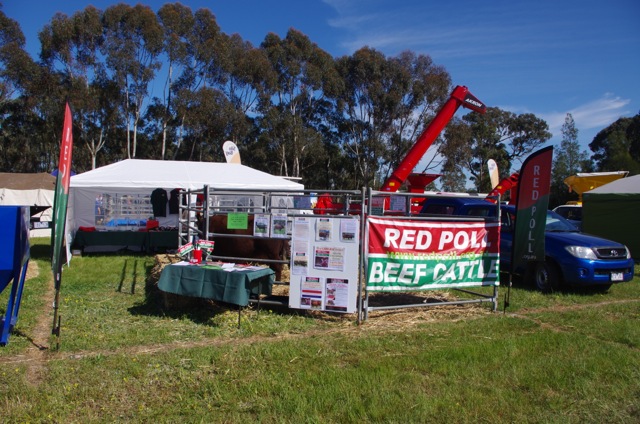 Red Poll Site October 3-5, 2017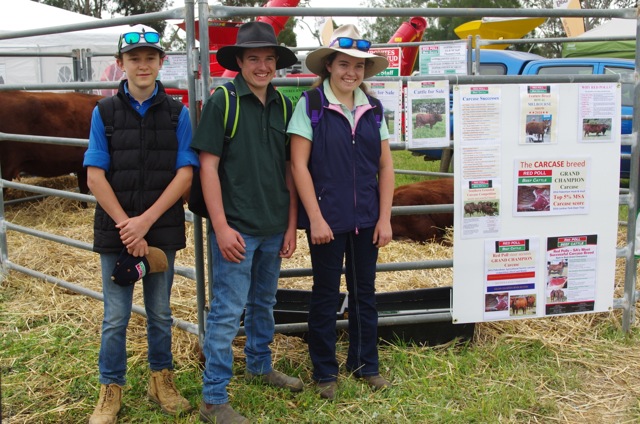 From the Right - Carlie and Jarred Mackelmann, friend Harold.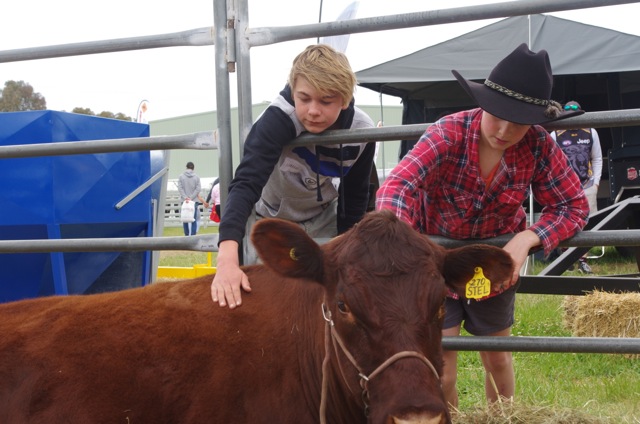 Stella and friends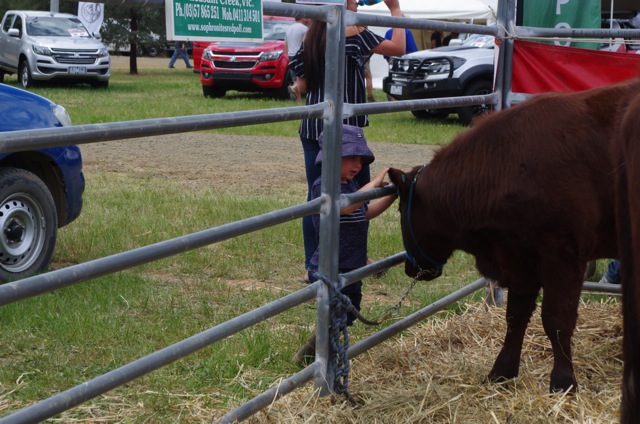 Steer (Odin) with young admirer.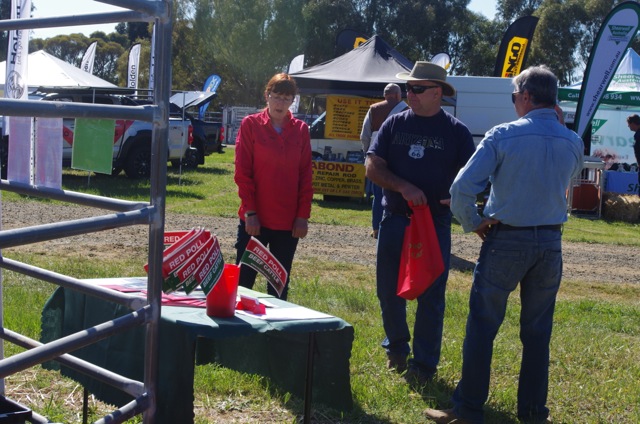 Anne Moya talks to visitors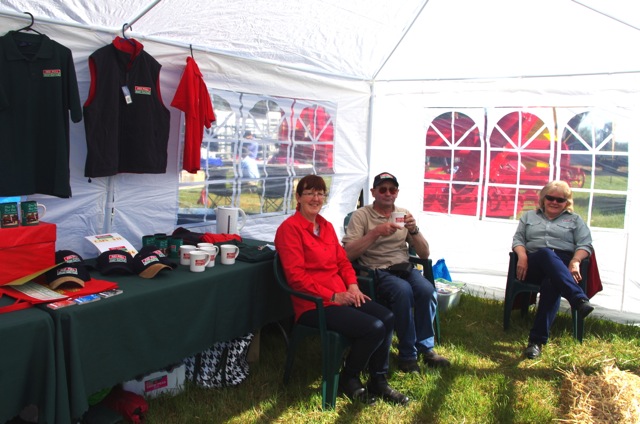 Anne and Frank Moya relax with Nell Staff in the tent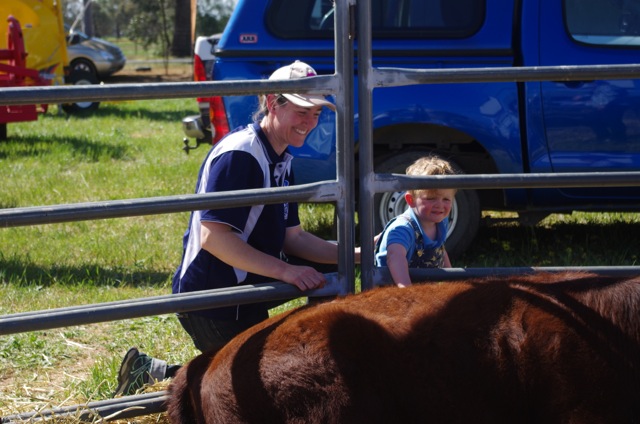 Steer with admirers



Victorian Red Poll On Farm Challenge 2017
The Victorian Red Poll On Farm Challenge commenced on Thursday, April 16 with the arrival of Judge Albert Hancock of Kookabookra Red Poll Stud, Glen Innes, at Tullamarine Airport. He travelled to Pheasant Creek where he assessed Ian and Nell Staff's cattle. Friday was a lay day where he visited Melbourne city and visited the National Gallery of Victoria, Southbank and environs. On Saturday, he was collected by Doug D'Oliver and travelled to Nar Nar Goon where he judged Anne and Frank Moya's cattle (Tiraslea Stud). After overnighting at Leongatha with Doug, he assessed his cattle on Sunday (St Cerry Stud) followed by Judy Rand's cattle at Cannons Creek (Balla Balla Stud).
On Monday April 20, Albert journeyed to Donnybrook where he was met by Don Castle and assistant driver Stan Murray of Warrnambool, who took him north to Gooram (near Euroa) to see cattle belonging to our Junior member Carlie Mackelmann (Glenwyn Stud). This was followed by crossing the border through Albury to Ian and Jill Coghlan's Eurimbla Stud in Gerogery. After overnighting with the Coghlans, the team then moved on to Barham to assess the cattle of the Storm Family (Stormley Stud). After this process, the Judge was returned to Stoneyford where he was hosted by the Castle Family. On Wednesday, judging occurred at Hawkesdale with Bob and Terry Nutting's commercial cattle herd followed by Greg Abbott's Turanga Stud cattle at Kolora. After another night being hosted by the Castles, Albert visited the McAlinden Rua Mor Stud in Gellibrand on Thursday morning and assessed the Castle cattle (Koallah Park Stud) in the afternoon.
The Challenge concluded on Friday with a presentation of awards and luncheon at Pheasant Creek. Albert also explained his judging technique using one of the Staff's heifers as an example.
All told, there were 127 cattle entered in the competition representing 11 Red Poll Herds. Unfortunately, our On Farm Challenge overlapped with our Red Poll Site at Larder Park Farm World in Warragul and we are very appreciative of the hard work of Mark Harris, Anne and Frank Moya and Doug D'Oliver who managed that Site.
Congratulations go to all who participated and especially to the owners of the Champions – Junior Champion Female – Don Castle; Senior Champion Female – Ian and Jill Coghlan; Junior Champion Bull – Trent Storm and Senior Champion Bull – Greg Abbott. Especially, thanks go to Don Castle and Doug D'Oliver who drove the Judge many kilometres and arranged his accommodation.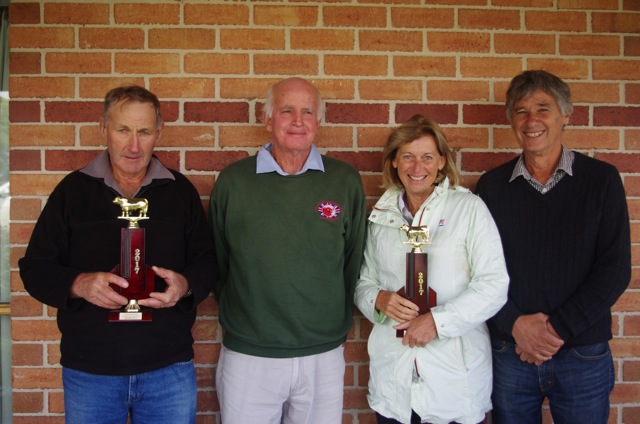 L to R - Don Castle (Junior Champion Heifer - Koallah Park Beckie) Albert Hancock (Judge) Jill and Ian Coghlan (Senior Champion Cow - Eurimbla Seaside)
Absent from photo; Trent Storm - Junior Champion Bull - Stormley Quantum and Greg Abbott - Senior and Grand Champion Bull - Almora Amos and Best Pair of Steers < 18 months by a single Sire - Carlie Mackelmann Glenwyn Stud - with Offspring of Stormley Landfill)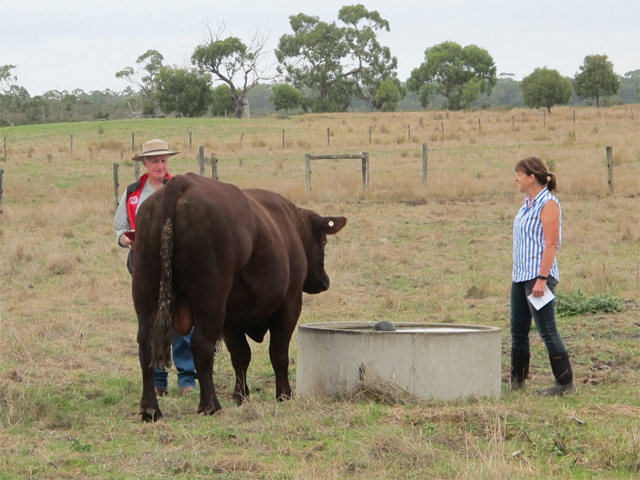 Judge Albert Hancock assesses bull while Judy Rand watches.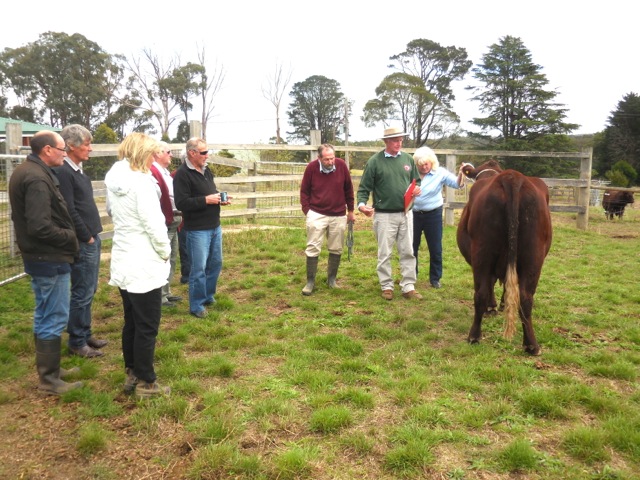 Judge Albert Hancock demonstrates his assessment techniques.


Euroa Show - Sat 22 October 2016
Junior member Carlie Mackelmann exhibited some of her cattle at Euroa Show on Saturday 22 October.
Her results were very impressive - Junior champion bull - Glenwyn Harley, Reserve Champion Senior Female - Glenwyn Eve, Champion Senior Female and Grand Champion Female - Stormley Monique.
Congratulations Carlie.
All junior members are encouraged to participate in their local shows, it's great fun and you learn lots by participating.
| | | |
| --- | --- | --- |
| | | |
| Junior Champion Bull - Glenwyn Harley | Reserve Champion Senior Female - Glenwyn Eve | Champion Senior Female and Grand Champion Female - Stormley Monique |
RASV Prime Stock Competition - Pakenham - 19th September 2016
The Royal Agricultural Society of Victoria (RASV) in conjunction with the Australian Livestock and Property Agents Association will hold the Annual 'Prime Stock' Competition.
On Monday 19th Septermber, judging comences at 9:00am, to be followed by the 2016 ALPA Victorian Young Auctioneers Competition at 10:30am.
This competition showcases the quality of Victoria's prime young stock before a selection will be auctioned by the top ten finalists of the ALPA 2016 Victorian Young Auctioneers Competition.
The cattle must be of a high grade and will be judged in pens of three, prior to being offered by auction to a full gallery of buyers.
Places into the competition are limited.
Let's hope a Red Poll team could shake them up!
Entries close on 26th August.
Entry form available here.
TOP LOTS AT PAKENHAM SALEYARDS - 28th July, 2016
IA & NF STAFF of Pheasant Creek sold 6 Red Poll Cows with four to six month old Red Poll calves, depastured to a Red Poll Bull for $2,200 per unit.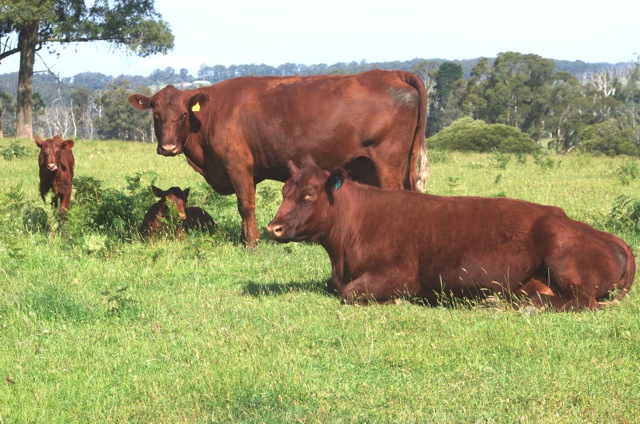 Victorian Red Poll On Farm Challenge, April, 2016.
The Victorian Red Poll "On Farm Challenge" for 2016 was commenced on Sunday the 17th of April when driver Doug D'Oliver picked up Judge Annette Walker from her home in Buln Buln and drove her to the three herds being assessed on the day. They were Mark and Elke Harris' Ketlang Stud, Doug D'Oliver's St Cerry Stud at Leongatha and Anne and Frank Moya's Tiraslea Stud at Nar Nar Goon. Anne and Frank Moya visited all three herds to take photos also.
Proceedings then continued early on the following Friday when Anne and Frank Moya transported Annette to Ian and Nell Staff's Sophronites Stud at Pheasant Creek. They arrived at 9.15am and judging continued until noon. After lunch, Don Castle, who had driven from Stoneyford in Western Victoria, drove the Judge to Ian and Jill Coghlan's Eurimbla Stud in Gerogery NSW (just over the border). Both Don and Annette were hosted by the Coghlans overnight after judging of the cattle was completed.
The next day, Saturday 23rd April, saw another long day's travel to the Storm family's Stormley Stud in Barham, also over the border in NSW. Judging of cattle was completed there and Don then commenced on the long drive to Stoneyford for Don Castle's Koallah Park Stud. Annette was hosted by Don and wife Beverley at home, and after the Koallah Park Red Polls were assessed. The next herd to be assessed was that of Sandra and Damian McAlinden's Rua Mor Stud, followed by that of Greg and Kelley Abbott's Turanga Stud at Kolora.
Once again, the Castles hosted Annette overnight and then Don drove her to the home of Nell and Ian Staff in Pheasant Creek where Annette gave a presentation on her judging techniques and presented the awards for the Challenge. She explained how she had a strong connection with Red Polls from an early age when her parents milked Jersey cross Red Polls and then used Red Polls with their great milking qualities to finish off calves properly.
Annette is well known as becoming one of the most successful breeders and exhibitors of Red Poll cattle, winning numerous Championships in major Shows and progressing the breed by training young people in grooming, feeding and showing her cattle and managing the first Red Poll Handlers Camp at Heathcote Junction.
A hearty lunch was provided by Nell Staff for all in attendance and Annette was thanked for her wonderful performance and a job very well done by President Gay Ward.
YOUTH CATTLE CAMP
The next Red Poll Youth Cattle Camp will be held in Glen Innes from Friday 7th October - Sunday 9th October 2016.
The camp to be held at the Glen Innes Showgrounds is to be hosted by Northern New South Wales/Queensland Region of the Australian Red Poll Cattle Breeders.
The camp is open to people aged from 8 years to 25 years who are interested in handling, showing and learning about cattle and the beef industry. Catering for novice and experienced handlers, the weekend will cover a range of interesting "hands on" activities, along with relevant cattle industry tutorials.
Applications to attend close 26th August 2016. COST: $150.00 for non-members $120.00 for ARPCBI members which covers accommodation, all meals (12pm Friday to 4pm Sunday), instruction and loan cattle. (Discounts for families may apply).
You can become a member of ARPCBI with your application to the camp, please complete a membership form and submit with entry.
Participants under 10 years must be accompanied by a parent/guardian. Experienced cattle breeders and handlers will staff the camp. Parents are welcome to visit the venue at any time during the camp.
If you would like to attend, please complete the entry form below and return by the 26th August.
Download Cattle Camp entry form.
NOORAT SHOW - November 2015
Congratulations go to Don Castle of Koallah Park Red Polls on winning the Grand Champion Carcass at Noorat Show.
Congratulations also go to Greg Abbott of Turanga Red Polls on his significant Taste Test success at the Noorat Show Competition, winning by a large margin over the other entries. The Taste Test Section was Greg's initiative with this year being its inaugural introduction to the program.
Greg and his family have also set up a business selling his Red Poll meat direct to local businesses. Well done Greg on these initiatives, both for yourself and your family.
EUROA SALE - October 2015
The next Red Poll Sale will be held in Euroa on Wednesday 14th October 2015.
RED POLL will be the Feature Breed and we want to showcase our cattle. Please consider entering your cattle, both Registered and/or Commmercial.
The area near Euroa is a good cattle breeding area and there will be commercial buyers in attendance as well as potential cattle breeders. If you live a long way away from Euroa, please consider sharing transport costs with your Red Poll neighbours.
Advertising is being done in the Stock and Land and in local papers in the Euroa area, as well as frequent Radio Commercials.
YOUR SUPPORT IS NEEDED TO MAKE THIS EVENT A REAL SUCCESS AND TO EXPAND THE BREED
Further information: click here
NEW WEBSITE ADDRESS
For the past 12 years or more our website has been hosted by Vicnet, a division or the State Library of Victoria free of charge. Vicnet have decided that they will no longer provide web hosting facilities for community groups, thus forcing us to relocate our website.
On 24th November 2013 our website was relocated to a new address www.redpollvic.com. Because of the short notice we were given that Vicnet would no longer be able to host our website, the new web site is a copy of what was previously published at Vicnet. Going forward the new hosting facility will allow us to improve the website which had reached capacity some time ago.
If any members have information to be included on the web site could they please forward to Graham Neal or Ian Staff.
ELMORE FIELD DAYS - OCTOBER 2011
There were lots of visitors to the Red Poll site at Elmore Field Days that was held between Tuesday 4th and Thursday 6th of October at a site near Elmore in central VIctoria.
About 40,000 people visit the Field Days each year. Red Polls were displayed by Nell and Ian Staff.
Interest was shown in small calves by many passers by and much interest was directed at the Red Poll Breed.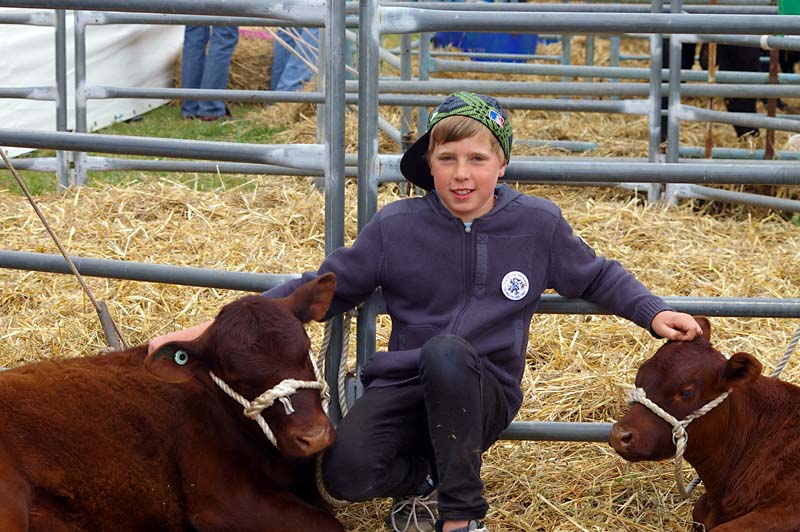 LIFE MEMBER - ALAN WILSON
Life Membership of the Australian Red Poll Cattle Breeders inc. was bestowed on Alan Wilson whose family - father Ron, Alan and son Peter - have been showing Red Polls at the Royal Adelaide Show for 50 years.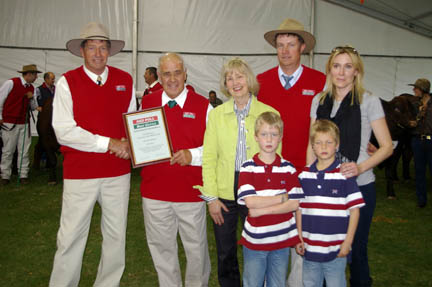 Red Poll Feature, Geelong Show 13-16 October 2011
The Victorian Region is holding a feature show at Royal Geelong this year.
In recent times, Red Poll breeders have done a tremendous job supporting our Royal feature shows. Let's try to keep the momentum going and present a great spectacle.
Noelene King will be commentating for us.
The Cattle Show will be on either Friday night or Saturday. (to be confirmed)
Along with feature breed classes other options include;
Carcase competition
All breeds junior heifer classes
All breeds junior bull classes
Junior judging
Junior handlers
Please mark this feature show on your calendars and try to make the trip. Perhaps if you come to Royal Melbourne Show you could incorporate Royal Geelong Feature show as well.
We are seeking your assistance with sponsorship for this event, please contact contact In Staff if you can assist.
Maine-Anjou and Red Poll Sale March 5, 2011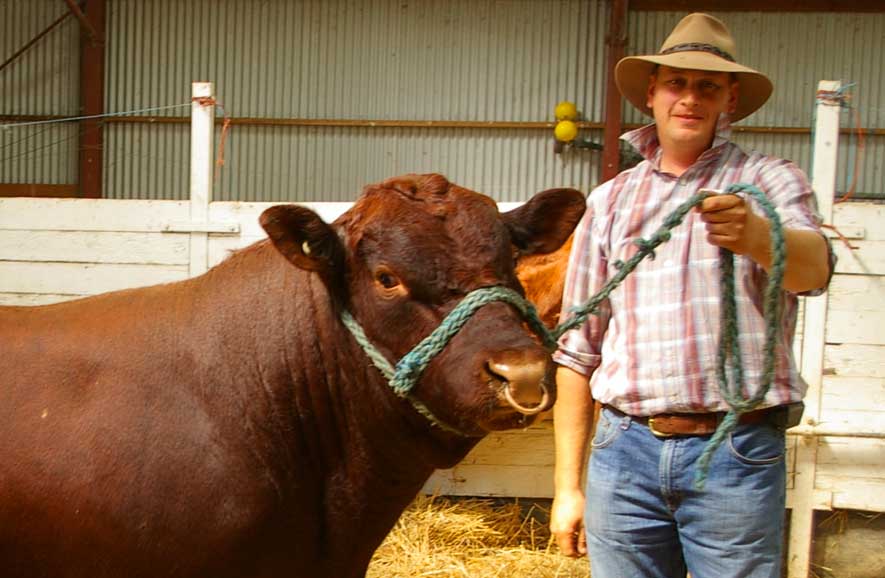 Buyers were busy at the Maine-Anjou and Red Poll Sale last Saturday at the Whittlesea Showgrounds. Red Polls dominated the Sale with the top-priced animal being a 19 month old bull presented by BE & LE Johnson of Kinglake Central. The bull - Lynbarry Impulse - was Reserve Champion Red Poll Bull at Royal Melbourne Show in 2010, and was purchased by Don Castle of Stoneyford for $3,700. Red Poll Stud Bulls averaged $3,000 and Red Poll Stud Females (mainly heifers) averaged $1,640 ranging from $1,200 to $2,000.
The Red Poll Commercials created most interest, with the top-priced pen of 5 cows and Poll Hereford cross calves offered by Douglas Payne of Kilmore being knocked down to new buyer James Sprunt of Forrest, western Victoria for $1,750 per unit. Seven pens of Red Poll commercials brought a total of $35,790 (average $5,113) and they went to properties from Flowerdale to Forrest, LaTrobe in Tasmania and Braidwood, NSW.
Overall, Red Polls sold for a total of $61,190 for 21 out of 26 lots - a clearance rate of 81%. Maine-Anjou Cattle also sold well with the smaller offering of 18 lots of 19 animals having a 72% clearance rate. All stud females were sold up to a price of $2,600 and 3 bulls went for $1,500 and $1,600 with an average of $1533. A good crowd of about a hundred watched as the auctioneers ran out of bidding cards and had to recycle the used cards to satisfy the high activity of the bidders.
Ross Draper, Chairman of the Sale Committee and Landmark Agent Andrew Embling said it was the most successful Sale they have seen in a long time using the Helmsman Auction System.
Thanks go to Gay Ward, Nell Staff, Lynette Johnson and Judy Munro for providing great meals and refreshments all day. Bridgid Fry and other Maine-Anjou ladies provided lots of yummy cakes.
Victorian Red Poll On Farm Challenge, 19-22 January, 2011.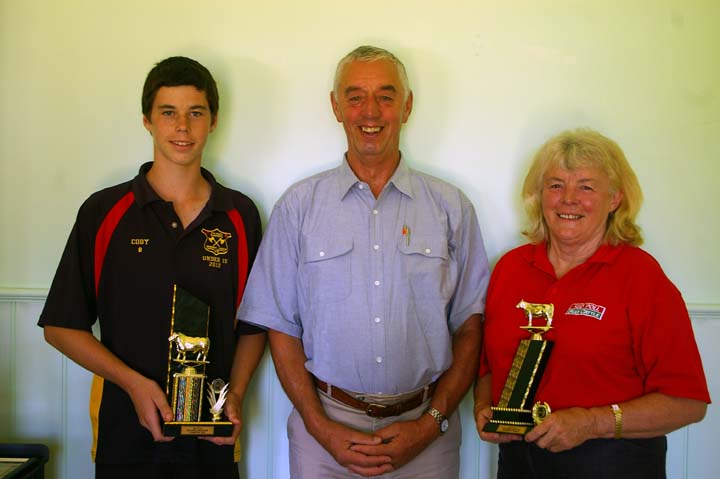 President Don Castle commenced the day on Wednesday with Judge Arch Stevenson at home in Stoneyford. After assessing his 12 cattle, they moved on to Mortlake to see the herd of Greg Abbott, followed by Bob Nutting's cattle at Hawkesdale. On Thursday, they took a long drive to Shane Storm's property in Barham, followed by Lesley John's herd at Elmore.
A change of chauffer occurred on Friday with Doug D'Oliver driving the Judge to his property at Leongatha North, to Mark Harris' herd at Lang Lang and then on to Ian Staff's property at Pheasant Creek. On Saturday, there occurred a get together of Red Poll members and visitors to witness the Judge's explanation of his judging system and words of wisdom about evaluating structure, milking ability and fertility assessment in cattle.
The presentation of awards followed with the following results. All told there were 73 females and 17 bulls entered from 8 herds.
The Judge stressed the selection of females for herds by looking at the major working parts - the feet/legs, the rump and the udder. If you identify a fault in a breeding female, it is important to use a bull that does not have the same fault, but that will counteract or diminish it. He preferred moderately sized animals over excessively large ones and looked especially for good hip to pin length and slope and a wide set of pins. He used the Australian Beef Type Classification Reporting System, which contains a range of scores from 1 to 9 for 21 characters. The median score of 5 is preferred whilst animals with scores tending towards 9 or 1 would be too extreme.
He suggested a way forward for the Red Poll Breed would be to identify elite females and flush them using semen from elite bulls to produce embryos for rapid increase of quality animals in the Breed.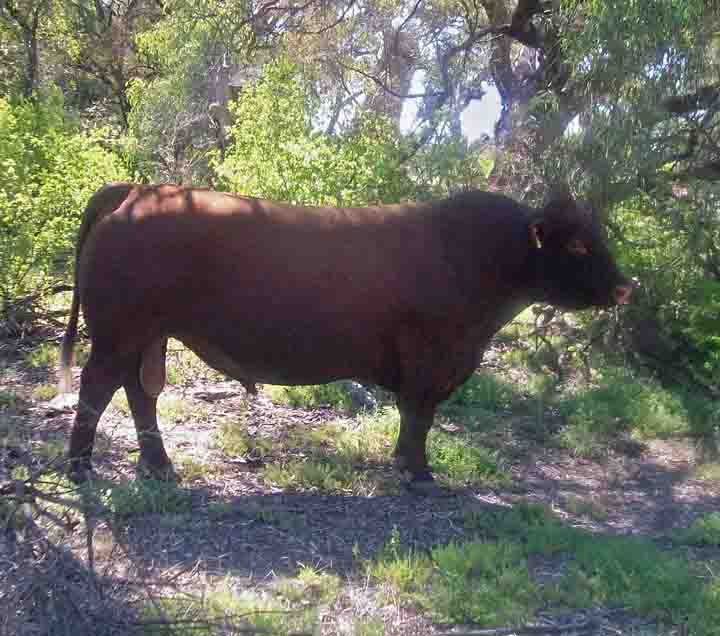 Results
JUDGE - ARCH STEVENSON, Camperdown
Female

Class 1 - 9-16 Months:
1. G. Abbott - Turanga Rose
2. N & I Staff - Sophronites Clarissa

Class 2 - 16-24 Months
1. D. Castle - Koallah Park Heather
2. D. D'Oliver - Saint Cerry La Nippa One

Class 3 - 24-36 Months
1. G. Abbott - Turanga Florence
2. D. D'Oliver - Saint Cerry Miss Flora

Class 4 - 3-5 Years
1. N & I Staff - Sophronites Satara
2. M & E Harris - Rhyd-Talog Lilith

Class 5 - 0ver 5 Years
1. D. Castle - Koallah Park Prudence
2. D. D'Oliver - Saint Cerry Inglewood La Nippa

Bull

Class 6 - 9-16 Months
1. D. Castle - Koallah Park Red Mike
2. N & I Staff - Sophronites Skipper

Class 7 - 16-24 Months
1. N & I Staff - Sophronites Tarkyn
2. N & I Staff - Sophronites Buddy

Class 8 - 2-5 Years
1. G Abbott - Turanga Hero
2. S Storm & Sons - Saint Cerry Ice

Class 9 - over 5 Years
1. S Storm & Sons - Stormley Strad Dale
2. M & E Harris - Ketlang Monarch

Class 10 - Two offspring one Sire
1. N & I Staff - Sire Sophronites Tristan - S Winnie & S. Susie
2. G Abbott - T Madge Light & T Annabelle Light


CHAMPION FEMALE - Sophronites Satara - N & I Staff
Pheasant Creek.

CHAMPION BULL - Stormley Strad Dale - S Storm & Sons
Barham, NSW.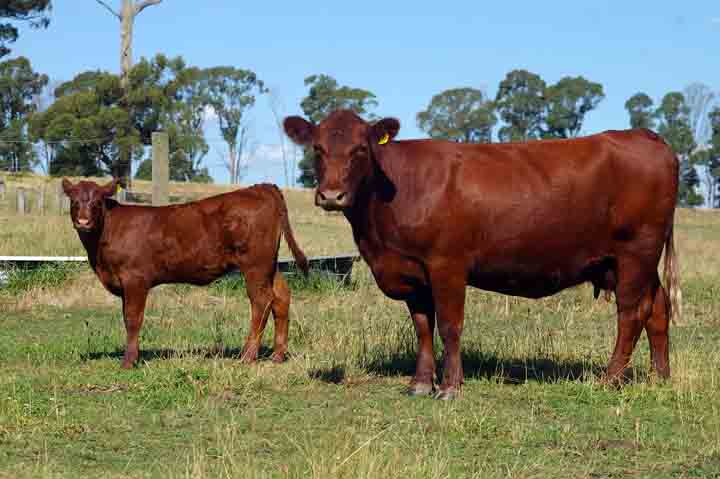 Red Poll Steers perform well at Gippsland Steer Trial
A pair of Red Poll steers, from Ketlang Red Poll stud have outperformed all but one pair of composite, crossbred and pure bred steers at 2009 Lardner Park steer trial.
The trial is conducted each year at the Lardner Park Field Days site. It is a grass fed trial and runs from June until early December, with the steers weighed monthly to monitor their progress. The target market for the steers is for a 210 to 270 kilogram HSCW with 5 to 14 mm of fat at the P8 site. The steers are entered as pairs and 45% of the overall points are awarded for weight gain and 55% of the overall points are awarded for carcase evaluation. Ketlang Red Poll stud entered two pairs of steers, with the higher performing pair averaging 1.28 kilograms per day, finishing just behind a pair of Simmental/Angus Optimizer composite steers with a daily weight gain of 1.30 kilograms per day.
The Ketlang steers were sired by A.I. sires Ketlang Monarch and Waroona Vale Metric. The Monarch sired steer missed out on having the highest overall gain of any steer in the competition by one kilogram. The average for the two pairs of Ketlang steers was 1.21 kilograms per day compared to 1.15 kilograms per day for the trial overall.
In the carcase evaluation, the highest scoring steers were a pair of Bazadaise/Angus cross steers followed by a pair of Red Angus X Hereford steers, with a pair of Red Poll steers entered by John Fowler gaining third place.
Although the overall winners are not announced until a presentation dinner in the New Year, the results show that first place overall goes to the Simmental / Angus Optimizer composite steers, second place to the Ketlang Red Poll steers and third place to a pair of Murray Grey steers.
Victorian Region report for October 2009
Red Poll Breeders have once again had a very busy time in the past three months following the AGM on July 25th.
Elected to positions were; President: Donald Castle, Vice President: Mark Harris, Secretary/Treasurer: Ian Staff, Promotions: Nell Staff and Lesley Johns, Merchandise: Judy Munro & Alison Rae, Publicity: Ross Draper.
It was pleasing to see a number of Victorian Region Exhibitors at The Adelaide Royal Show , Raedean, Balla Balla and Stormley all had excellent results which will be in the SA Report. Congratulations to Ian Staff on again being elected to the National Executive for the next 2 years as a national member.
Following on from the outstanding results achieved by Brooklea (Champion Carcase 86.43 points and Highest Saleable Meat Yield) in the 2008 Lardner Steer Trial, four Red Poll teams are entered this year. The steers are grass fed for 160 days and carcases assessed at Radfords Abs. Warragul. Steers are weighed every 5 weeks to assess progress. A team entered by M. & E Harris, Ketlang have had the highest daily weight gain after both 5 weeks and 10 weeks with 1.83 & 1.77 kg per day. The next weighing is Monday 19th October 2009.
The Royal Melbourne Show was held from 17 to 27 September. Only 2 Red Poll steers were entered this year so unfortunately we did not have a team for The Borthwick Trophy. While not being placed, the steers entered by North Melb Institute of TAFE and R. Draper scored 78.934 & 74.476 points.
The Stud section was this year judged by Mr Barry Godbolt from Charnock Herefords who had previously judged at Melbourne in 2001. He could see substantial improvement of the breed in that time. Exhibitors were S & J Coles, Balla Balla, IA & NF Staff, M & J Bassula, Red Phoenix and R. Draper, Red Cactus.
Results were;
Junior Champion Heifer: Red Cactus Jolly
Reserve Junior Champion Heifer: Red Phoenix Monash Dancer
Senior Champion Cow: Red Cactus Wilma
Reserve Senior Champion Cow: Red Cactus Patrice
Grand Champion Female: Red Cactus Jolly
Junior Champion Bull: Red Cactus Land Boy
Reserve Junior Champion Bull: Balla Balla Brigadier
Senior Champion Bull: Balla Balla Kalahari
Reserve Senior Champion Bull: Red Cactus Eldorado
Grand Champion Bull: Balla Balla Kalahari
Supreme Exhibit: Balla Balla Kalahari
Most Successful Exhibitor: Ross Draper
Following judging a large group of Red Poll enthusiasts enjoyed a munch (morning Tea/lunch) in the cattle lines kindly prepared by the Staff family and helpers. Thanks to all concerned for a special social get together.
During Interbreed Judging RASV President Mr John Fox presented Ross Draper with The Presidents Medal. This medal was awarded to Ross for his continued exhibition at Royal and Country Shows, support and focus on youth, Service to the show industry and providing premium genetics to the Red Poll sector of the industry.
The Stud Beef Victoria Beef Industry Award was presented to RASV cattle committee Chairwoman Mrs Noelene King. Chairman of Stud Beef Victoria, Ross Draper in making the presentation said the award was presented when the committee found a person who had contributed to a wider beef industry throughout Victoria and across breeds. Mrs. King is well known to Red Poll breeders through her assistance with Feature Shows and Junior events. The Guidelines for this award are the same as the ARCBA 'RW Vincent Award.'
Elmore Field Days was held on October 7, 8 & 9 this year. An excellent display set up by the Johns and Staff families attracted more Red Poll interest than other years. Thanks to all who helped.
The Red Poll Sale will once again be held in conjunction with Maine Anjou Beef Australia on Saturday March 13, 2010. Entry forms will be sent out for registered and commercial cattle in early November. The entry closing date must be adhered to to enable Sale Cataloge and DVD to be produced and printed for distribution at events in January Interstate cattle will again not be required to be at the sale but can be sold from home via the DVD. The committee looks forward to a successful result.
Upcoming events for Vic Region include Spring & Autumn Country Shows,
2010 On Farm Challenge, January 19 to 23, 2010.
Beef Week Field Days, Jan 31 to February, 2010
Sungold Field Days February 17, 18 & 19, 2010
Red Poll Sale ,Whittlesea Showgrounds Saturday March 13, 2010
Lardner Park Field Days March 25, 26, 27 & 28, 2010
National Beef 2010-Bendigo May, 19-24, 2010
RED POLL ON FARM CHALLENGE - December 2008
The Victorian Region of the Australian Red Poll Cattle Breeders Inc. is hosting an "On Farm Challenge" December 3-5. There are eight participating herds that are spread out over Victoria from Stoneyford, Gellibrand, Terang in the west to Ballarat, Colbinabbin, Pheasant Creek and in the east - Lang Lang and Won Wron.
The aims of this event include the engagement of breeders from all over the State, both commercial and stud, to provide assistance to breeders by communication with an expert in livestock assessment on the hoof with a view to better selection of stock on the basis of structure, fertility and market needs.
The Judge for the event was Mr Grame Hopf of Murwillumbah, NSW. Mr Hopf has a distinguished career in the Cattle Industry. He has been involved in breeding large beef herds, in assessment of dairy and beef herds in Australia and Internationally, and has judged at many Royal Shows in Australia. He uses a points scoring system for each animal assessed which provides an objective basis for the task at hand. He also gives valuable advice to breeders on the projected future of animals assessed, and is extremely talented in these matters.
On Saturday, 6th December, at the Staff's residence at Pheasant Creek, the results of Mr Hopf's assessments were summarised and winners of each of the classes were announced and presented with certificates and prizes.
The awards went to

Class 1: Heifer 9-16 months

1ST - Lesley Johns -  Rhyd-Talog Ophelia        LMJ 358
2nd - Don Castle - Koallah Park  Susan          BC 023
3rd - Sam Henson - Red Hot Polls                CTH 115

Class 2: Heifer 16-24 months

1st - Paul & Judith McAninly                    PJM 710
2nd - Ian & Nell Staff - Sophronites Cara       NIS 115
3rd - Ian & Nell Staff - Sophronites Daphne     NIS 119

Class 3: Cow 2-5 years

1st - Ian & Nell Staff - Sophronites Sapphire   NIS 082
2nd - Lesley Johns - Rhyd-Talog Olga            LMJ 280
3rd - Sam Henson - Red Hot Crystal              CTH 082
	
Class 4: Cow 5 years over

1st - Ian & Nell Staff- Sophronites Cindy       NIS 011
2nd - Sam Henson - Red Hot Philis               CTH 027
3rd - Greg Abbott - Turanga Buccaneers Ann      EMA 175
4th - Ian & Nell Staff - Sophronites Pamela     NIS 055


Class 5: Bull 9-16 months

1ST - Greg Abbott - Turanga  Koallah Hero       EMA 230 
2nd - Ian & Nell Staff - Sophronites Google     NIS 128
3rd - D & S McAlinden - Rua Mor                 RMS 158

Class 6: Bull 16-24 months

1ST - Don Castle - Koallah Park Dean            DBC 055 


Class 7: Bull 2-5 years

1ST - Lesley Johns - Rhyd-Talog Belafonte       LMJ 297 
2nd - Mark Harris - Ketlang Monarch             KET 761

Class 9: Pair of Steers

1ST - Greg Abbott - Turanga  		
2nd - Mark Harris - Ketlang

Class 10: Sires Progeny Pair

1ST - Don Castle - Koallah Park by Raedean Sinatra
2nd - Greg Abbott - Turanga by Koallah Park Red Power
3rd - Ian & Nell Staff - Sophronites by Sophronites Nimrod

Champion Male:  Lesley Johns - Rhyd-Talog Belafonte
(Colbinabbin)

Champion Female:  Ian & Nell Staff - Sophronites Cindy
(Pheasant Creek)

Sophronites Cindy - 11 year old cow that has had 9 calves
Champion Female Red Poll On Farm Challenge 2008
(Scoring 92 Points by Judge Grame Hopf) owned by Nell & Ian Staff of Pheasant Creek
Nell Staff (Owner & Breeder of Champion Female Sophronites Cindy) On left;
Judge - Grame Hopf, Murwillumbah;
Lesley Johns (Owner & Breeder of Champion Bull Rhyd-Talog Belafonte) on right.
Rhyd Talog Belafonte
When presenting the awards, Mr Hopf stated that he was very impressed by the quality of cattle he examined. There was a large number of very good and excellent animals assessed, and he was particularly surprised by the quality of older females seen in several of the herds. These animals, he said, should be targeted by the Red Poll Group, and mated to the best bulls we could find in order to conserve some of the genetics they represent. He was particularly impressed by some of the commercial herds, where they were very switched on to supply the market needs and presented some top animals for him to inspect. He stated that the Red Polls provide the most femininity amongst the British Breeds and along with their high fertility characteristics, they represent a boon to those who are interested in using them for cross breeding purposes.
The greatest numbers were entered in the young heifer classes, and several of these were assessed at the maximum point score he gives for heifers, and a high proportion were just under the maximum. The Champion Female was an eleven year old cow, Sophronites Cindy, that has had 9 calves, with a lovely eight month old calf at foot. She had an ideal head and body, with an excellent udder and legs and feet for such an age. He scored her 92 points , which is the highest for the competition and she would stand proud and high in a herd of any breed. She was exhibited by Nell and Ian Staff of Sophronites Stud at Pheasant Creek. The Champion bull was exhibited by Lesley and Alan Johns of Colbinabbin. He was a 35 month old bull, Rhyd-Talog Belafonte, who had great size and conformation and Mr Hopf suggested to the owners that they should collect his semen as soon as possible, so that his genetics could be spread throughout the breed and the industry expediently. Participants were very pleased with the whole even, and all said they had learnt so much about cattle assessment in a very short time, and were very grateful to Mr. Hopf.
Ian Staff
Secretary, Victorian Region
Australian Red Poll Cattle Breeders Inc.



Sophronites Cindy - 11 year old cow that has had 9 calves- Champion Female Red Poll On Farm Challenge 2008 (Scoring 92 Points by Judge Grame Hopf) owned by Nell & Ian Staff of Pheasant Creek Nell Staff (Owner & Breeder of Champion Female Sophronites Cindy) On left; Judge - Grame Hopf, Murwillumbah; Lesley Johns (Owner & Breeder of Champion Bull Rhyd-Talog Belafonte) on right.


RED POLL & MAINE ANJOU SALE - SATURDAY, 26TH JANUARY, 2008
2008 commenced with our Annual Red Poll & Maine Anjou Sale which was held on Saturday, 26th January on the Australia Day weekend.
A good crowd was in attendance although sale results were mixed. In the Red Polls there was about 50% clearance. Top priced bull was gained by Red Phoenix and Ketlang Stud sold the top priced female.
NATIONAL BEEF 2007 ALL BREEDS SALE - 20TH MAY 2007 - BENDIGO SHOWGROUNDS
Lot 28 - Red Cactus Muscle Throne, topped the sale with a price of $7000. He was sold to Carabah Grazing Co of Tambo Queensland. Congratulations to vendor, Ross Draper.
Lot 26 - Red Cactus Glacier was sold for $3600 to Carabah Grazing Co.
Lot 27 - Glenrossal Achilles was sold for $3600 to Carabah Grazing Co.
The Red Poll breed also topped the Sale Breed Average with an average of $4733.
RED POLL BULL INTERBREED SUPREME AT ROYAL CANBERRA SHOW 2007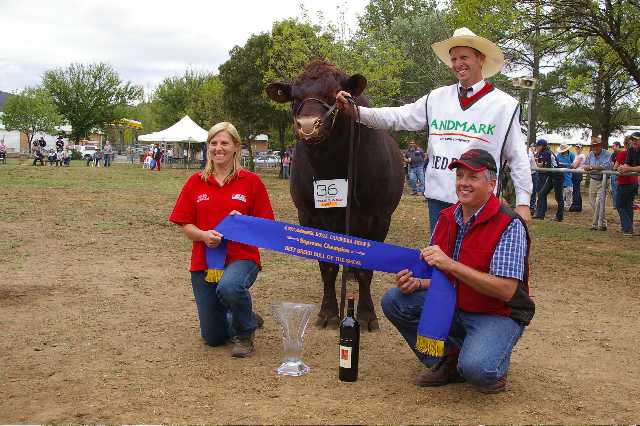 Twenty six Red Poll exhibitors put on a spectacular display of over 100 head of Red Poll cattle at the Canberra Royal Show this year.
Junior Champion female was awarded to Rhyd-Talog Olga exhibited by Lesley Johns, and Reserve junior champion to Glenrossal Beautiful Nat exhibited by Doug and Anne Smith.
Lynbarry Lustre exhibited by Daryl and Keith Johnson impressed the judges who awarded her Senior Champion and Grand Champion Red Poll female. Reserve senior champion female was awarded to Eurimbla Marta exhibited by Ian and Jill Coghlan.
Balla Balla Let It Go received the junior champion Red Poll bull award and Ross Draper's Red Cactus Firepace received the reserve junior champion bull award.
Balla Balla Bellamy was awarded senior champion bull and the reserve senior champion Red Poll bull award was given to Tranquility Marlon both exhibited by Judy and Steven Coles.
The entire Red Poll community was thrilled on Sunday morning when the judges anounced Balla Balla Bellamy as the Interbreed Supreme Champion Beef Breed Bull, and then placed Bellamy ahead of the Supreme Champion Beef Breed Female, an angus cow Underra Y3 to become the Champion of Champions of the 2007 Canberra Show.
Congratulations to Judy and Steven Coles of Pearcedale Victoria. Semen from Bellamy is available from Semex.
The Red Poll breed now seems to be getting the recognition it deserves, not only did we win supreme interbreed exhibit with Bellamy but also placed fifth in the interbreed competition with Lynbarry Lustre, against competition from the best animals of 21 breeds of beef cattle.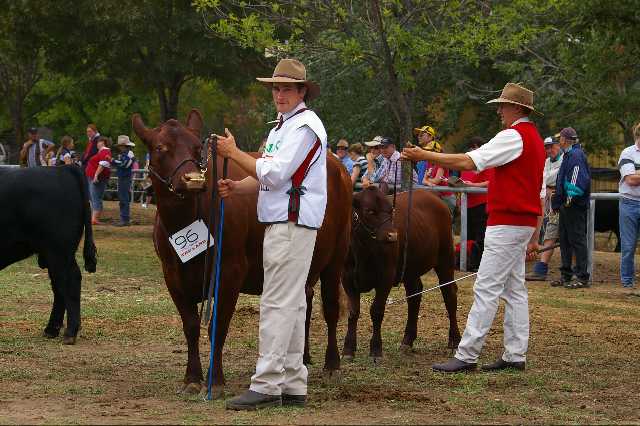 RED POLL WINS CHAMPION HEAVY DOMESTIC CARCASE AT ROYAL MELBOURNE
Congratulations to the Johnson family who exhibited the champion heavy domestic carcase at Royal Melbourne show. Sire: Lynbarry Superfluous, Dam: Lynbarry Annlex, 87.990 points.
JUNIOR MEMBER SUCCESS AT THE STUD BEEF HANDLERS CAMP 2006
Melissa Ball and Lisa Quiney, Red Poll junior members, attended the Weekly Times Cattle Handler's Camp at Geelong Show Grounds. The camp attracted 90 participants and was held from June 27th to 30th.
The handlers were divided into age groups Junior under 12 years, Intermediate 12 to under 18 years and Senior 18 years and over. Each age group was divided into sections depending on previous experience. There were novice competitors through to experienced competitors.
Each participant was able to bring his or her own animal or accept a ballot animal. Melissa borrowed Redward Finesse from David & Gay Ward's Redward Stud in Pearcedale. Finesse was an 11-month-old heifer already broken to halter and lead.
All the participants learned how to wash, groom and prepare their animal for the show ring and were lectured on the finer points of cattle handling and showing.
On Thursday there was a cattle show where the participants paraded their animals for prizes. Redward Finesse won her age group class but was beaten for Champion by an older Angus heifer.
Lisa led her own heifer, Red Cactus Robynara and was first in her class, Heifer 15 & under 20 months (12 in class). Red Cactus Ralady was 3rd in Heifer 20 & under 24 months with 10 animals in the class.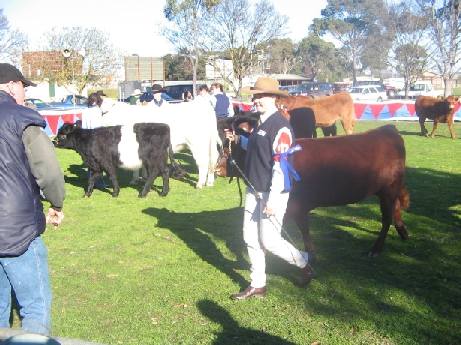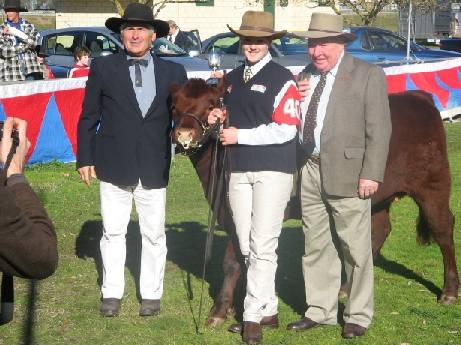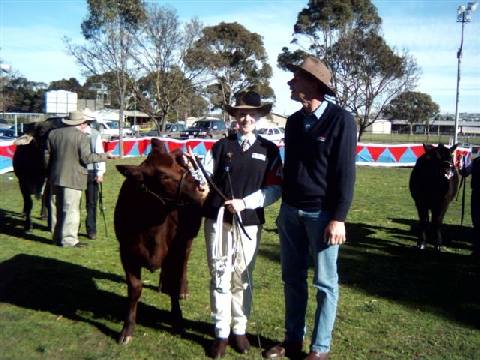 On Friday it was the handler classes. The juniors were divided onto four sections. Each junior winner competed for the title of Champion junior handler. In the Intermediate section, Melissa won her age group and was then named Champion Intermediate handler. Lisa was 2nd to Melissa in their initial Intermediate Class. There were 13 handlers in this class.
After the adult section the three Overall Champions went against each other and the Champion Dairy Handler. Melissa and Finesse won the Overall Champion of Champions and were presented with a lovely hand made halter and trophy by Ross Draper, the President of Stud Beef Victoria.
Melissa also won this competition with Redward Marsanne in 2004.
Well done Melissa and Lisa and thank you to Gay and David Ward, and Ross Draper for lending the beautiful Redward Finesse, Red Cactus Patrice and Red Cactus Ralady.
MAINE ANJOU RED POLL SALE - JANUARY 2006 - Red Poll Bulls to $4900
Buyers from Victoria, NSW, South Australia and New Zealand flocked to the Whittlesea Red Poll and Maine Anjou sale on Saturday January 28th, where bulls sold to $4900 and females to $4100.
The top-priced bull was the Red Poll Oakwood Prince George, which sold to Bill, Joan and Diane Corbett, of Cooeeyana Stud, Mangoplah, NSW. The vendor, RM Wilson and Son, of Oakwood Stud, Minlaton, South Australia, also sold a heifer for $1700.
The top-priced female was also a Red Poll. The vendor was Lesley and Alan Johns, of Rhud-Talog Stud, Elmore , Victoria and the buyer was the Martinvale Stud in New Zealand. Rhyd-Talog also sold another heifer for $1900 to Stephen and Judy Coles, of Balla Balla Stud, Pearcedale, Victoria.
Ross Draper of Red Cactus Red Poll Stud, Arthurs Creek, sold five females to $3100, with Frances and Robert Drysdale of Rollands Plains, NSW, paying $3100 and $1500 for their two picks. Other sellers of Red Polls included Red Phoenix stud of Tumbarumba, NSW; Shane Storm, Barham, NSW; and Ketlang stud of Lang Lang. Lynbarry Stud of Kinglake Central sold two bulls and the Raedean stud of Buln Buln sold one at $2600. There were 13 buyers of Red Polls.
In the Maine Anjou section of the catalogue, females sold to $3000 to Doug Hargrave, Dalwood Lodge, Yan Yean, who also paid $2900, $1850 and $1250 for females. The top Maine - Anjou bull price was $2100 for Glen-Yogi Owen (P) which sold to D. Pottie, Gunnedah, NSW. the sale was conducted via the Helmsman System, and grossed $59,600, a much higher result than last year.
15 Red Poll females to $4100, av $2000
Three Red Poll bulls to $4900, av $2934
Four Maine Anjou females to $3000 av $2250
One Maine-Anjou bull at $2100
Gary Rodda Stock and Land - 2nd Feb 2006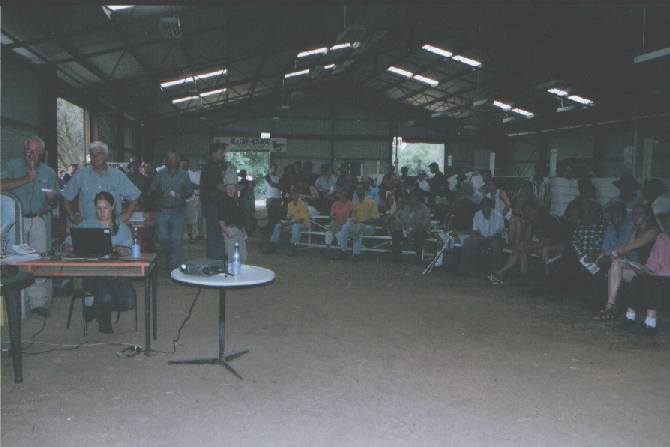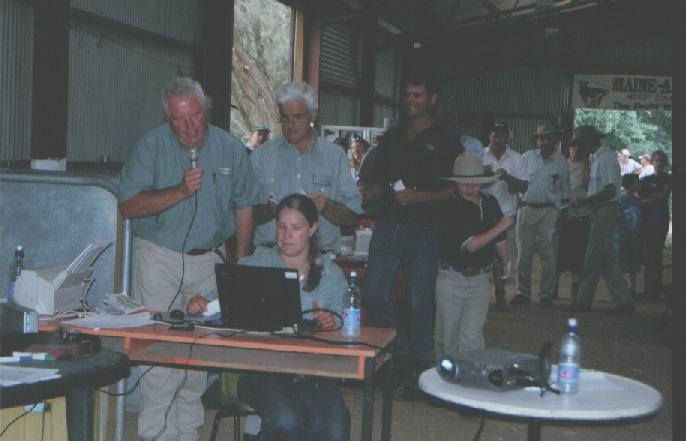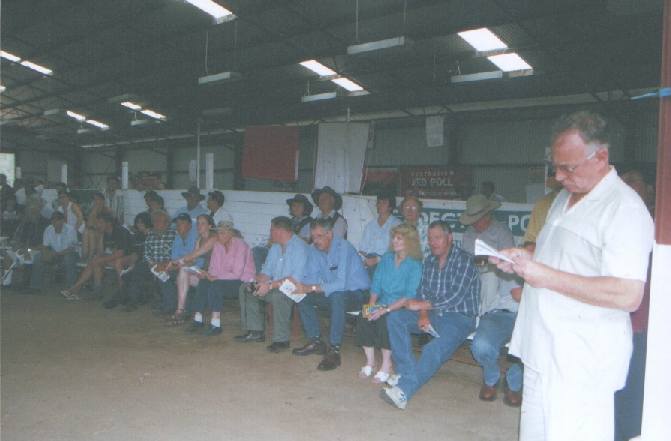 More details here
RED POLL FEATURE SHOW - DANDENONG 2005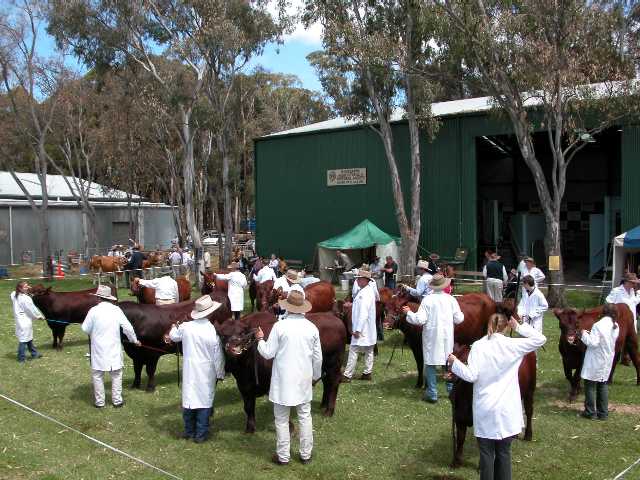 RED POLLS - 3RD IN BORTHWICK - MELBOURNE ROYAL 2005
Once again our steers failed to catch the judges eye in the live judging, if our team of 3 pure bred steers had only been judged on the hook we would have been placed 1st.
This success backs up the success of our fellow South Australian breeders who were successful in taking out the Grand Champion Carcase and a win in the Domestic class both were pure bred steers also.
FIELD DAY - 28th MAY 2005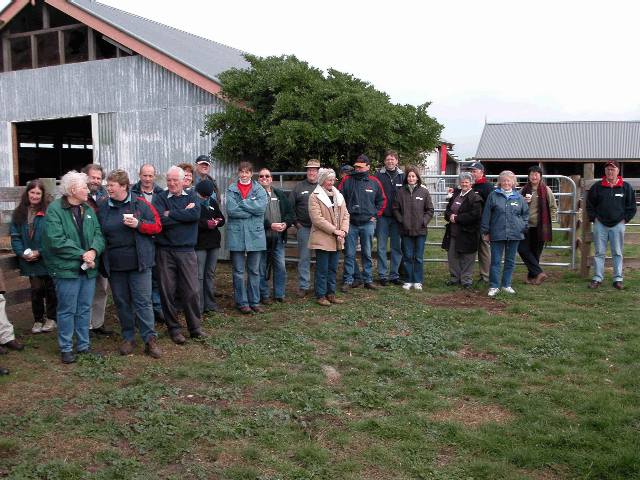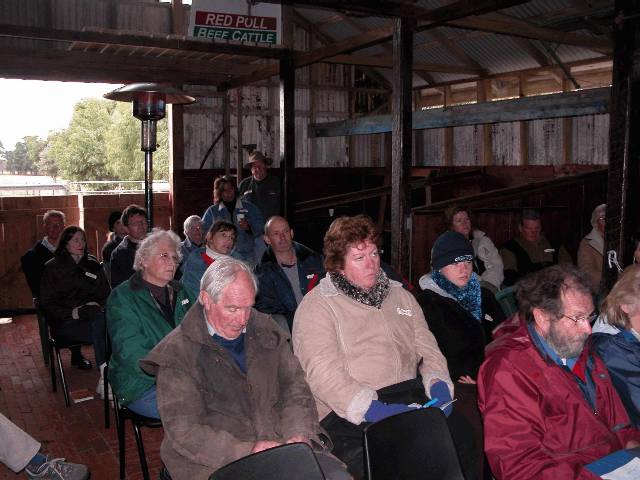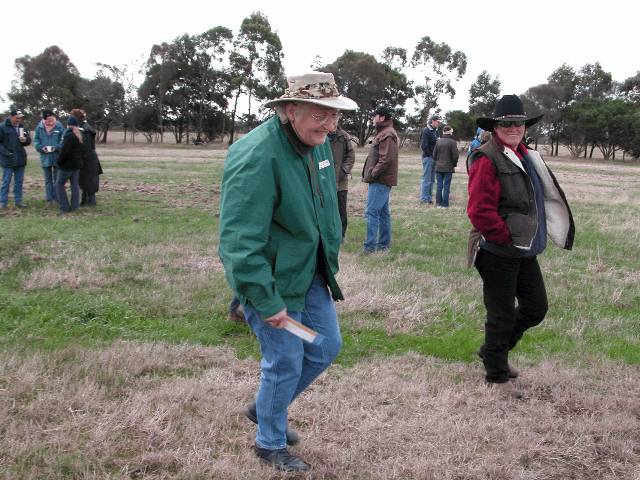 The Australian Red Poll Cattle Breeders, Victorian Region would like to thank Stephen and Judy Coles for opening their property, Balla Balla Red Poll Stud, Pearcedale, to us on Saturday 28th May.
About 35 people attended a very interesting field day which included sessions on Practical Cattle Handling, by Dr. Mike Harrison from the University of Melbourne Veterinary School, More Beef from Pastures, Dr. Ed Dunn, Mackinnon Project, University of Melbourne, and a presentation by Neil Henderson of Pfizer Animal Health.
Everyone had a great time and learned lots, we hope to have more educational sessions in the future.
Victorian Red Poll Breeders Snare Top Awards at Royal Canberra Show 2005
Red Poll Breeders excelled at Exhibition Park in Canberra last week (February 25), winning ten of the twelve Broad Ribbons on offer. There were 30 entries in the competition, but only 10 from Victoria. David and Gay Ward of Redward Stud in Pakenham came away with the Junior Champion Red Poll Bull with Redward Weary, who was also awarded Grand Champion Red Poll Bull and Supreme Champion of the breed by judge Bill Dunlop of Molong, NSW. They also won the Junior Champion Red Poll Heifer Ribbon with Redward Harmony.
Nell and Ian Staff of Sophronites Stud from Pheasant Creek won Senior Champion and Grand Champion Rep Poll Female with Sophronites Nicola, while Ross Draper of REed Cactus Stud at Arthurs Creek won Senior Champion Red Poll Bull with Red Cactus Pacer and Reserve Junior Champion with Red Cactus Clara. David and Gay Ward won the Breeders Group Broad Ribbon while Nell and Ian Staff won the Sire's Progeny Group with offspring of Sophronites Merlin.


RED POLL WINS INTERBREED SUPREME
Congratulations to Noel Gnaden and Annette Walker of Raedean Red Poll Stud, Buln Buln on winning supreme Interbreed at the Maffra Show on October 23rd with Raedean Bono.
Annette Walker becomes the first Female Federal President
The Australian Red Poll Cattle Breeders Inc. have appointed Annette Walker as the incoming Federal President. Annette becomes the first Female President of the organisation and has a long record of service to the breed behind her.
Annette and partner Noel Gnaden operate the highly successful Raedean stud at Buln Buln Victoria and are regularly seen promoting Red Poll around Australia.
2003 and 2004 will be looked back on for more than this with the historical amalgamation of the two Red Poll groups and the first Group BREEDPLAN analysis recently conducted.
Mark Harris Victorian President
At the recent Annual General meeting at Whittlesea Mark Harris was elected President of the Victorian Region of the Red Poll Cattle Breeders Inc. Mark has performed as Vice President for several years, and we welcome him to his new position.
Mark and wife Elke run the Ketlang Red Poll stud at Lang Lang, 85 kilometres south east of Melbourne.
8th Annual Red Poll & South Devon Sale
The 8thAnnual Red Poll and South Devon Sale was held on Saturday 8th May 2004, at the Whittlesea Showgrounds.

The top priced female and Red Poll was Red Cactus Minglint sold by Ross Draper to Peter Chilcott of South Molton Tasmania for $3750.
The top priced Red Poll Bull was Sophronites Good Knight sold by Nell and Ian Staff to Frank Mc. Cormack of Mansfield for $2000.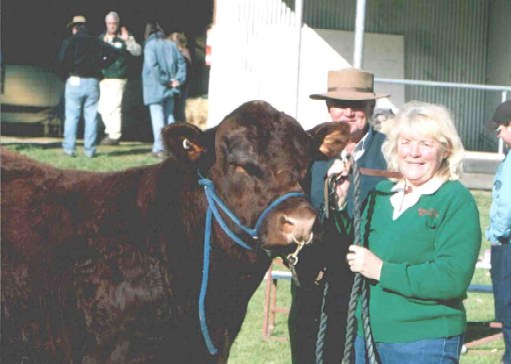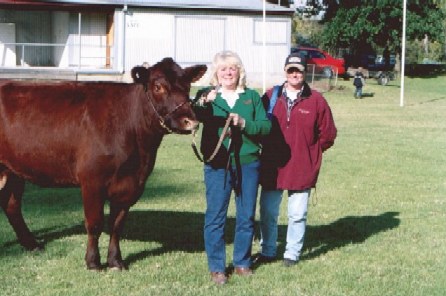 CHAMPION BULL SOLD AT RED POLL SALE - SYDNEY SHOW.
The senior champion bull sash was awarded to 34-month old Raedean Classic, shown by Annette Walker and Noel Gnaden, Raedean Stud, Buln Buln Victoria.
The 964kg bull, a son of Eurimbla Classic and grandson of M-M Hoosier Classic, topped the post show sale when Doug and Anne Smith, Glenrossal stud, Tarago, snapped him up for $10,000.
The Smiths have had considerable succes with another Raedean bull, Bosco, which sired the junior champion female, Glenrossal Ada Lady, and the champion sire's progeny group.
The judge Peter Croker, Bolong Hereford stud, Taralga, said the top animals were of a high standard.
RED POLL - JUNIOR CHAMPION INTERBREED
Red Polls impressed the judges at the 119th Warragul & West Gippsland Show on March 5-6th.
There were 75 beef entries over the weekend, with the YGP Junior Classic (Interbreed) on Friday night. Reserve Junior Champion Bull was awarded to Raedean Caruso by judges Tania Guaran, Mel Ryan and Trevor Hatch.
On Saturday the judges once again had much praise for Red Polls in the interbreed competition with Mel Ryan, Geoff McInnes and Peter Schembri placing Raedean Caruso as the Junior Champion Interbreed Male, Raedean Classic Reserve Interbreed Senior Champion Male, and Reserve Interbreed Champion Group of 3 also going to Annette Walker & Noel Gnaden of Raedean Red Poll Stud, Buln Buln.
Alison Rae - Rural Ambassador - Whittlesea Show 2003
Congratulations to Alison Rae of Summer Brae Red Poll Stud, who won the Rural Ambassador competition recently at the Whittlesea Show.
The Rural Ambassador Award is conducted by the Royal Agricultural Society of Victoria Limited and Victorian Agricultural Shows Ltd, and is open to entrants aged over 20 years and under 30 years.
The aims of the competition are:
To highlight the talent, creativity and ingenuity of young rural Victorians and in doing so encourage entrants to be role models across local communities.
To encourage and reward enthusiastic, skilful and industrious young people living or having an involvement in rural environments.
To assist all entrants through their participation to develop strong communication and leadership qualities and to directly assist the winner through the support of a bursary.
Enable the applicant to gain greater proficiency in their chosen field and also to develop the applicant's stature and reputation in that chosen field.
Entrants are assessed on Communication Skills, Community Involvement, Rural & General Knowledge, and Grooming and Confidence.
We wish Alison all the best in the Port Phillip Group Regional Final in April.
Red Sands Edward, wins All Breeds Supreme Senior Champion Beef Bull in Perth
Recently in Western Australia at the Perth Royal Show, the Supreme Red Poll Exhibit, Red Sands Edward, also won the All Breeds Supreme Senior Champion Beef Bull.
The Four year old Bull weighed in at 1,185kgs (heaviest bull at the show) with an Estimated Muscle Area (EMA) of 129 sqcm, with a fat measurement of 15mm on the P8 and 10mm on the rib.
Grand Champion Red Poll Steer
Kinglake Red Poll breeders Barry and Lynette Johnson won the grand champion award for their Red Poll beef carcase at the Whittlesea Agricultural Show in November. The 12-month old Red Poll steer was also the winner of the show's light domestic class for a 160-220kg carcase.
The steer won with a score of 91.3 points from a maximum of 100. The Whittlesea competition uses the same carcase scoring as the Royal Melbourne Show, with a maximum 15 points for meeting market specification, 40 points for saleable meat yield, and 45 points for eating quality.
Considering the Johnson's Red Poll steer scored more points than the champion at the recent Royal Melbourne Show, it was definitely a great result.
| | |
| --- | --- |
| Age | 12 months |
| Live weight | 336Kg |
| HSCW | 191.2 Kg |
| Dressing % | 56.9 % |
| Market Specification | 14/15 points |
| Saleable Meat Yield | 40/40 points |
| Eating Quality | 37.3/45 points |
| Total | 91.3/100 points |
Red Poll Society and Red Poll Cattle Breeders Association Amalgamation
The historic amalgamation of the Australian Red Poll Society and the Australian Red Poll Cattle Breeders Association was announced at the Melbourne Royal Show, ending twenty-five years of separation.
The merger was presided over by Mr. Ian Coghlan, president of the former 'Society' and Mr. Frank McCormack, president of the former 'Association'. Both presidents agree that the continued promotion of the Red Poll breed would be enhanced by a single entity.
The inaugural president of the new Australian Red Poll Cattle Breeders Inc, Ian Coghlan congratulated all Red Poll breeders on the outstanding result. He said "the function and efficiency of Red Poll cattle has particularly proved its worth during the past year, when much of Australia has been ravaged by drought. The foraging ability and feed conversion efficiency of Red Polls is something to be treasured."
In commending breeders, Mr. Coghlan added that during the past year "there has been considerable growth in the number of Red Poll studs and breeding age females which is laying an excellent foundation for the future of the breed." He also added that later this year a "Red Poll Group BREEDPLAN analysis will be run, allowing all Red Poll users to benefit from across the breed EBV's"
The Red Poll breed's reputation for producing prime beef has most recently been enhanced by wining the Champion domestic carcase and the Champion feedlot carcase at the Adelaide Royal Show. According to Mr. Coghlan "the challenge is to translate these successes into the commercial market that can particularly benefit from the use of Red Polls in cross breeding and composite breeding programs."
Royal Melbourne Show - September 2003
The Red Poll breed was well represented with 37 Red Poll entries plus 5 steers in the carcase competition, including entries from new breeders who have not previously exhibited. (Most other breeds decreased in number while we have increased our numbers).
7th Annual Red Poll & South Devon Sale
The 7thAnnual Red Poll and South Devon Sale was held on Saturday 10th May 2003, at the Whittlesea Showgrounds

There were 37 Red Polls offered for sale. Top price went to Ross Draper for his 4 year old cow Red Cactus Sepjeth with a bull calf at foot (Red Cactus Learjet). Red Cactus Sepjeth was Senior Champion Cow at 2002 Royal Melbourne Show.

The sale was conducted using the Helmsman auction system. This buying system combines the best features of both the auction system and sale by private treaty.

People said that the "Helmsman" system was buyer friendly because it helped them get better value for money. The simultaneous auction method enables them to switch to the best valued animal at any time during the sale.

Congratulations to the sale committee Gay Ward, Mark Harris, Paula McKenzie and Gordon Garratt. An excellent day was had by all.
Steers in top condition.
This year's Gippsland Field Days steer trial was completed when steers in the second turn-off were processed at Radford's Abattoirs last week.
The cattle were weighed for the last time on February 10. The leading pair for weight gain was a pair of Brangus cattle from Bob Davie's Bimbadeen Brangus farm at Ventnor with a 2.53 kilograms a day for the pair.
In second place was a pair of Angus Saler cross cattle from Peter Roger's Salco Partners farm at Lang Lang at 2.3 kilograms a day, and in third place was another pair of Brangus cattle from Bob Davie's farm on 2.24 kilograms a day.
Weight gain accounts for 45 per cent of the total points.
Following the processing of cattle at Radford's Abattoirs, the carcases were judged and the highest points score was achieved by a pair of South Devon/Red Poll/Angus cross cattle from the Somerville farm owned by Allan Condron of Stratford with 186 points.
Closely following in second place was a pair of Red Poll cattle entered by John Fowler with 145.5 points and in third place was a pair of Saler Angus cross cattle from the Scattered Gums farm of Reg Mickelburough.
The steers turned out in excellent condition in the second turn-off and after a full Ausmeat trim achieved a 56 per cent yield which was an outstanding performance. The color of the meat was excellent despite the dry conditions in which the trial was run during later days.
The remaining 55 per cent of points is judged on the quality of carcase and all winners in both the first and second turn-offs will be announced at Farm World on March 20.
There is a new award for this year's trial and this will be a perpetual trophy sponsored by Radford's Abattoirs. The award will be for steer of the trial. It will be judged by Robert Radford and announced at Farm World.
Warragul Gazette, 18 Feb 2003
Red Poll Interbreed Success continues
Congratulations to Barry and Lynette Johnson and family of Lynbarry Red Poll Stud. Lynbarry Superflous was awarded Supreme Interbreed Exhibit at the Wonthaggi show on 11th January 2002 by Larry Cutler.
Trevor Hatch & Melinda Kent were judging at the Sale Agricultural Society on November 1st & 2nd 2002 and awarded Reserve Junior Champion Interbreed Male and Reserve Champion Interbreed Male to Raedean Classic. Champion Interbreed Pair of Heifers to Raedean Red Poll Stud (with Raedean Hanwood & Raedean Katie). Champion Interbreed Group of Three Animals to Raedean Red Poll Stud (with Hanwood, Katie & Classic), a great result for Noel and Annette.
Congratulations also go to Ross Draper of Red Cactus Stud for his success in the Interbreed competition at Lancefield show with his bull Red Cactus Woolara.
Ross also attended the Rochester Show where he won the Supreme Female Interbreed with Red Cactus Patlass, the judge was Graeme Collins. Even though it was not a feature show for Red Polls there were more Red Polls there than any other breed.
2003 Youth Cattle Camp
The 2003 Red Poll Society Youth Cattle Camp was held over the Anzac Day weekend, at Lomandra Park, Heathcote Junction. The camp was for young people with an interest in handling, showing or just learning about cattle.
Further details are available here: http://www.redpollvic.com/camp.html
2002 Youth Handlers Camp
Students, and presenters alike enjoyed the youth handlers camp at Lomandra Park, Heathcote Junction. The three day camp was help from 5th - 7th April 2002 during the school holidays, with an enthusiastic group of young farmers attending.
The feature packed program included sessions on Cattle Handling, Grooming & Leading, Cleaning and Maintenance of Show Gear, Tattooing, Cattle parading and Show etiquette, Marketing, Clipping, Animal Health, Best Management Practices, Knot Tying and Halter Making, Organics, and Scanning.
We would particularly like to thank Mike Bassula, Ian Coghlan, Drew Coulthard (Northern Melbourne Institute of Tafe, Animal Science), Ross Draper and Anja, Gerhard Grasser (Vitec & Gippsland Organic Livestock Inc.), Mark Harris, Daryl Johnson, Sean Kallady, Dr. Bruce Robertson, Ian and Nell Staff, Annette Walker and all the Red Poll breeders that supported or helped in any way.
All those who attended had a great time and are looking forward to the next camp.
Red Poll wins Supreme at Pakenham Show
Two and a half year old Raedean Bogart exhibited by Gay and David Ward was awarded Supreme beef animal in the Interbreed competition at the 2002 Pakenham Agricultural Show.
Congratulations to Gay and David.
Red Poll takes Supreme Beef Animal at 2002 Warragul Show
Red Cactus Sepjeth was star of the show at the 117th Warragul & West Gippsland Agricultural Show.
Three year old Sepjeth with 7 week old calf at foot won Champion Female Beef Animal. The three judges Larry Cutler, Frank McCormack and Fiona Lindsay gave the broad ribbon to the Red Poll cow over the Junior Champion Angus bull from Carrington Park.
Congratulations to Ross Draper
Victorians Gain Top Prices at Red Poll Sale in Glen Innes
The 17th Annual Sale of Red Poll Beef Cattle was held at Glen Innes, NSW, on Saturday, 16th February.
The venue was changed by the organisers, Kath Kendrick and Gordon Fletcher from Lismore to access a new market and over 80 people attended.
Ross Draper's Red Cactus Stud of Arthurs Creek entered the top priced bull, a two year old, which was sold to commercial breeders Miller Brothers of Glen Innes for $2400.
The top-priced female was offered by Nell and Ian Staff's Sophronites Stud of Pheasant Creek. The three and a half year old cow and calf were purchased by Rhea and Bockman's Tanamerah Red Poll Stud of Warwick, Queensland for $2600.
27 lots were sold by Agents Ian Weir and Son of Lismore and Newberry teVelde of Glen Innes. All 16 females offered were sold.
Gippsland Field Days 2001 - 2002 Steer Trial.
161 day grass fed trial held at Lardner park near Warragul, Victoria.
Two purebred Red Poll steers entered by John & Beth Fowler from Vesper, were the leading pair in the trial with a total of 167.5 points, 4.5 points in front of the next pair and were placed second and fourth individually.
The two steers had carcase weights of 442 and 452 kg, dressed at 57.7% & 57.3% with eye muscle areas of 68 & 81 sq cm, fat depth at the P8 of 9mm & 8mm. They recorded average daily weight gains of 1.02 & 1.12 kg. Safeway bought the steers for $3.40 / kg dressed.
Home | Red Poll Cattle | Member List | Events | Breed Standard
Cattle for Sale | Show Results | Carcase Results | Contacts | Links
News | Youth Program | Merchandise
Last updated: November 24th, 2022