Meat miscalculation
A team of three Red Poll steers took third place in the prestigious Borthwick Trophy, part of the 2005 Royal Melbourne Show Carcase Competition.

The three purebred Red Poll steers, supplied by Oakwood, Red Cactus and Redward studs, were just squeezed out by Charolais and Murray Grey teams in the competition.

Again, judging of the live animals underestimated the Red Polls' final carcase qualities. We don't want to harp here, judging of live animals is, after all, subjective and prone to human foible. But the Red Poll animals were judged second-last of the nine breeds involved in the live section, yet gained more points for their carcases than anyone else, including the ultimate first and second places.

In other words, dispensing with the live results would have seen the Red Polls in front with 228.913 points, Murray Greys second on 228.681 points and Charolais third on 225.809.

That's good enough for us to hail them as champions of a different sort.

RED POLL BEEF ANNUAL 2006



Adelaide Show - 2004 Led Steer Competition
After mediocre results in the on hoof judging ( Oakwood , a third and Burra School (Moyle Park) , a fifth). The Red Polls again proved their worth in the carcase results.
We (red polls) were successful in winning the O'Conner Cup teams event, the three steers were :

Maleer Tasty Tom, exhibited and bred by JF, VE and CJ Malone.
Gum Hill Roger, exhibited by Cummins Area School, bred by IJ and JA Rogers.
Oakwood Cougar, exhibited by Kadina High School, bred by RM Wilson and Son.
Wilson's Red Polls won the Reserve Champion Domestic Carcase, with Oakwood Gladiator, scoring 80 points, 1 point behind the Grand Champion.
The breed also achieved a second place, Kadina High School and a sixth place, Faith Lutheran School in the schools domestic steer class with 33 entries. Burra Community School was placed fourth in the schools export steer class with 67 entries.
Every Red Poll steer scored more points as a carcase than the Domestic on hoof Champion (Murray Grey).
| | | |
| --- | --- | --- |
| Breed averages | Points Range | No. of steers |
| Red Poll | 60-80, ave. 69.16 | 12 steers |
| Angus | 45-80, ave. 64.57 | 19 |
| Poll Hereford | 38-78 ave, 62.26 | 19 |
| Murray Grey | 49-81 ave, 66.69 | 23 |
| Shorthorn | 44-77 ave, 63.60 | 15 |
| Red Angus | 48-73 ave, 63.36 | 11 |
It is most interesting to note that Red Polls very rarely have really low scoring carcases, always consistent.
Peter Wilson said "We were ecstatic about the O'Conner Cup result", our win in the O'Conner stopped the Shorthorns getting three in a row and claiming the Trophy. A breed needs 3 wins in succession or 5 wins total to win the cup. We now have 3 wins ( since 1995) two more to win it outright!
25th Whittlesea Hoof and Hook Competition
2003 was the Silver Anniversary of the Whittlesea Society's Beef Hoof and Hook Competition. There were 47 entries and the carcases were judged after slaughter at Belandra Abattoirs at Altona before being purchased by GJ Coles. Carcases were then analysed for the same range of characteristics as used at Melbourne RAS, so assessment of Market Specifications (15 points), Saleable Meat Yield (40 points) and Eating Quality (45 points) were carried out. Of the two Classes - Light Domestic (160-220 Kg HS Carcase Weight) and Heavy Domestic - (221-260 Kg ), the Light Domestic providing the highest scoring beasts.
A steer entered by Barry and Lynette Johnson, of Kinglake Central was declared the Grand Champion Carcase for 2003 and Winner of the Bruce Lloyd Memorial Shield and $500. The pure-bred Red Poll steer, sired by Lynbarry Superfluous, scored 91.3 out of a possible 100 points and scored three points higher than the Grand Champion Steer at the Melbourne Show.
RED POLL SCOOPS ROYAL SHOW HONORS
SCORE CARD

Exhibitor:
Northern Melbourne TAFE, Epping Vic.
Class 2: Vealer / Yearling
HSCW 221-260 kg
P8 fat 6-12mm
Body #238
Breeding RP
Tag #60
Live weight: 448kg
HSCW: 261kg
Dressing 53%
Item
Measure
Points
Min
Max
Weight Suitability
0
-5
0
P8 fat depth
7mm
10
10
Fat Colour
Chip 1
5
5
Eye Muscle Area
88 sq cm
25
23.1
Rib Fat Depth
6mm
15
15
pH
5.5
10
10
Meat Colour
Chip 1C
5
5
Ossification (WAM)
110
10
9.2
Bos Indicus Content
0%
5
5
Marbling
0.9
5
0
Fat Distribution
10
7
Total Score
100
89.3
CARCASE RESULTS MELBOURNE 2001
Champion Carcase Domestic &
Grand Champion Carcase
Red Cactus Stud
Northern Melbourne Institute of Tafe

---

CARCASE RESULTS ADELAIDE 2001
Champion Domestic Steer
#33 Red Poll
R M Wilson & Son
Reserve Champion Domestic Steer
#45 Red Poll
Burra Community School
3rd Place Domestic Steer
#56 Red Poll
Eastern Fleurieu School
4th Place (equal) Domestic Steer
#25 Red Poll
Moyle Park Red Poll Stud

---
After taking 1st, 2nd, 3rd, and equal 4th place at Adelaide show this year in a field of 45 entries, Red Poll has again taken 1st prize at Royal Melbourne show.
Winning the Grand Champion Carcase Competition at the 2001 Melbourne Show was a real thrill for Northern Melbourne Institute of TAFE (NMIT). Top honors were received with a locally bred Red Poll Steer prepared by one of NMIT's students.
Nicknamed "Cactus" by his handler, Hannah Horman, the red steer amassed an impressive 89.3 points for its meat quality, placing it ahead of 90 other entries.
Hannah Horman, who is completing her first year of a Diploma of Agriculture at the Yan Yean based TAFE farm, was pleased with the win.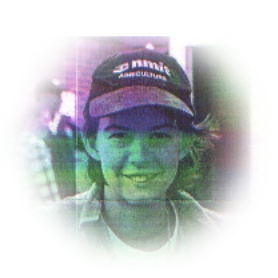 "We knew Cactus had a fantastic eye muscle area, as NMIT scans all its steers in the weeks leading up to the Show. We didn't do so well in the ring, but it's the carcase results that really matter," said Hannah.
NMIT has an enviable reputation in the Melbourne competition, which requires competitors to parade cattle in the show ring for judging, before the animals are slaughtered for carcase assessment.
The award is particularly satisfying for Arthurs Creek Red Poll breeder, Ross Draper, who's Red Cactus Stud has been a long time supporter of the TAFE agriculture program. Mr Draper, who also runs a livestock transport business, delivered all of the Institute's 12 steers to the show grounds for judging.
The winning steer had been in the school's feedlot for nine weeks, weighed 448kg live, and dressed out at 58.3 per cent for a carcase weight of 261kg. It earned full marks for P8 fat (7mm), fat colour, meat pH and meat colour.
NMIT also received a boost to its own cattle breeding program, taking out the award for highest scoring carcase bred and prepared by a school. The 14-month-old Angus steer "Ringo" was bred at Institute's Yan Yean farm, sired by Gunbar bull, Tennyson.
In addition to steers selected from NMIT's own Angus herd, several local producers enter animals in the NMIT program, to see how they perform as a carcase. Steers are fed a high growth ration and weighed regularly to maximise meat production.
The Melbourne Show competition is a highlight in the school calendar for NMIT students. Students select an animal to feed and train over many months, as part of their agriculture qualification.
Most students agree that the worst part of the competition is seeing their animals loaded onto trucks for their journey to the abattoir. This year a "Save Eimo" campaign was being hatched by some students for one particularly friendly animal.
For further information about NMIT courses phone 03-9269 1042.


Success at Paddock to Palate competitions



Home | Red Poll Cattle | Member List | Events | Breed Standard
Cattle for Sale | Show Results | Carcase Results | Contacts | Links
News | Youth Program | Merchandise
Page last updated: December 11th, 2006